National Assembly of the Republic of Serbia / Activities / Activity details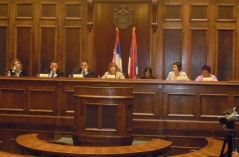 30 September 2013 Participants of the public hearing
Monday, 30 September 2013
Public Hearing Held on Environmental Protection as an Interdepartmental Matter, Regulation Implementation Control Procedures and Oversight Over Processing of Penalties Issued
Today, the National Assembly House hosted the third public hearing organised by the Environmental Protection Committee, with the topic Environmental protection as an interdepartmental matter, regulation implementation control procedures and oversight over the processing of penalties issued.
---
The public hearing was attended by MPs, representatives of the executive and the European Integration Office.
State Secretary at the Ministry of Energy, Development and Environmental Protection Dejan Novakovic presented the Ministry's basic duties and the activities of its working groups and announced the introduction of a budgetary environmental protection fund. He also spoke about the introduction of new environmental protection fees and the potential use of waste products in the building industry.
Assistant Minister of Natural Resources, Mining and Spatial Planning Slobodan Erdeljan briefed the officials on the Ministry's activities and its cooperation with the other ministries.
Tisa Causevic of the European Integration Office presented the European Union's environmental policy, its basic duties and goals.
Leposava Sojic of the Ministry of Energy, Development and Environmental Protection spoke about the regulation implementation control procedures, explaining how the inspectors operate and process complaints, adding that inspectorial control is regulated by 329 laws and by-laws.
MPs Gordana Comic, Srdjan Milivojevic, Aleksandra Tomic and Srdjan Sajn, asked the representatives of the executive about the enforcement of environmental protection laws, introduction of new fees, environmental accident reporting system, drafting of the Waste Management Strategy, operation of recycling centres and planned legislative activity in the sphere.
In the conclusion, Environmental Protection Committee Chairperson Milica Vojic Markovic emphasised the importance of interdepartmental cooperation, stressing that the citizens should take a more active part in the control of the implementation of relevant laws.
---
Committees related to this activity
---
Video (1)
Monday, 30 September 2013 | javno slušanje: Oblast zaštite životne sredine kao međuresorna nadležnost, procedure kontrole primene propisa i nadzor nad procesom izrečenih prekršajnih kazni 30.09.2013.
---
---
monday, 29 november
9.00 - sitting of the Committee on Constitutional and Legislative Issues (National Assembly House, 13 Nikola Pasic Square, hall 2)

11.00 - sitting of the Committee on Constitutional and Legislative Issues (National Assembly House, 13 Nikola Pasic Square, hall 2)