National Assembly of the Republic of Serbia / Activities / Activity details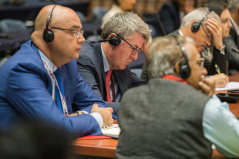 17 October 2019 National Assembly Delegation member to the IPU Prof. Dr Zarko Obradovic at the panel on Parliament in a changing world
Thursday, 17 October 2019
Prof. Dr Zarko Obradovic at Panel on Parliament in a Changing World
The member of the National Assembly delegation to the Inter-Parliamentary Union Prof. Dr Zarko Obradovic took part in the consultations on the 2021 Global Parliamentary Report in the panel Parliament in a changing world at the 141st IPU Assembly in Belgrade.
---
In his address, Obradovic opined that the key question contemporary parliaments should answer is how to convince people of the importance of parliament. "This will also encourage more people to participate in the election process," Obradovic said. He also stressed the need to make parliaments more visible to the public in order to bring home the importance of their legislative activity and its direct impact on citizens' lives.
We need to show the public that the parliament really is "the voice of the people" and that parliamentarians want to discuss topics of common interest, said Prof. Dr Zarko Obradovic.
In that context, it is crucial to encourage young people to take part in the electoral process and create the opportunities for youth participation in the parliament.
"The parliament's biggest virtue is the fact that it represents all the citizens of a state and that is what makes if different from all the other institutions", Prof. Dr Obradovic concluded his address.


---
---
thursday, 24 september
No announcements for selected date