National Assembly of the Republic of Serbia / Activities / Activity details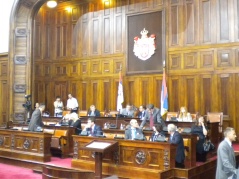 27 Speptember 2012 Parliamentary Questions in September
Thursday, 27 September 2012
Parliamentary Questions in September
On 27 September, in line with article 205, paragraph 1, of the National Assembly Rules of Procedure, the MPs posed various questions to the Government of the Republic of Serbia from 4:20 to 7:10 pm.
---
MPs Nikola Tulimirovic, Olena Papuga, Maja Gojkovic, Aleksandar Jugovic, Balint Pasztor, Cedomir Jovanovic, Milos Jovanovic, Mira Petrovic, Slavica Saveljic and Gordana Comic posed the parliamentary questions.
Ivica Dacic, Prime Minister of the Republic of Serbia and Minister of Interior, Zorana Mihajlovic, Minister of Energy, Development and Environmental Protection, Goran Knezevic, Minister of Agriculture, Forestry and Water Management, Zarko Obradovic, Minister of Education, Science and Technological Development, Bratislav Petkovic, Minister of Culture and Information, Mladjan Dinkic, Minister of Finance and Economy and Nikola Selakovic, Minister of Justice and Public Administration, responded to the MPs' questions.

---
---
monday, 29 november
9.00 - sitting of the Committee on Constitutional and Legislative Issues (National Assembly House, 13 Nikola Pasic Square, hall 2)

11.00 - sitting of the Committee on Constitutional and Legislative Issues (National Assembly House, 13 Nikola Pasic Square, hall 2)