National Assembly of the Republic of Serbia / Activities / Activity details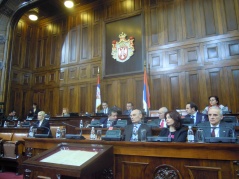 28 March 2013 Parliamentary Questions in March
Thursday, 28 March 2013
Parliamentary Questions in March
On 28 March 2013, in line with article 205, paragraph 1, of the National Assembly Rules of Procedure, the MPs posed various questions to the Government of the Republic of Serbia, from 4.15 to 7.15 pm.


---
MPs Riza Halimi, Olena Papuga, Mirko Cikiriz, Dragan Markovic, Konstantin Arsenovic, Cedomir Jovanovic, Slobodan Samardzic, Zvonimir Stevic, Goran Bogdanovic, Bojan Jakovljevic, Zaharije Trnavcevic, Djordje Stojsic, Vojislav Vujic, Borisav Kovacevic and Zoran Ostojic posed the parliamentary questions.
Ivica Dacic, Prime Minister of the Republic of Serbia and Minister of Interior, Suzana Grubjesic, Deputy Prime Minister for European Integration, Jovan Krkobabic, Deputy Prime Minister and Minister of Labour, Employment and Social Policy, Rasim Ljajic, Deputy Prime Minister and Minister of Foreign and Internal Trade and Telecommunications, Ivan Mrkic, Minister of Foreign Affairs, Milan Bacevic, Minister of Natural Resources, Mining and Spatial Planning, Zorana Mihajlovic, Minister of Energy, Development and Environmental Protection, Alisa Maric, Minister of Youth and Sport, Velimir Ilic, Minister of Construction and Urbanism, Bratislav Petkovic, Minister of Culture and Information, Milutin Mrkonjic, Minister of Transport and Slavica Djukic Dejanovic, Minister of Health, responded to the MPs' questions.

---
---
monday, 29 november
9.00 - sitting of the Committee on Constitutional and Legislative Issues (National Assembly House, 13 Nikola Pasic Square, hall 2)

11.00 - sitting of the Committee on Constitutional and Legislative Issues (National Assembly House, 13 Nikola Pasic Square, hall 2)