National Assembly of the Republic of Serbia / Activities / Activity details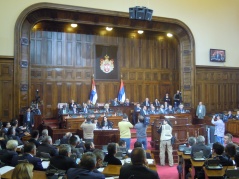 26 December 2013 Parliamentary Questions in December
Thursday, 26 December 2013
Parliamentary Questions in December
On 26 December 2013, in line with article 205, paragraph 1, of the National Assembly Rules of Procedure, the MPs posed various questions to the Government of the Republic of Serbia, from 4.25 to 7.25 pm.
---
MPs Riza Halimi, Zaharije Trnavcevic, Djordje Stojsic, Olgica Batic, Balint Pasztor, Petar Petrovic, Dusan Petrovic, Dubravka Filipovski, Prof. Dr Vladimir Marinkovic, Slobodan Jeremic, Ranka Savic, Jelena Travar Miljevic, Dr Slobodan Samardzic, Zvonimir Stevic, Borislav Stefanovic and Dragan Sormaz posed the parliamentary questions.

Prime Minister of the Republic of Serbia and Minister of Interior Ivica Dacic, First Deputy Prime Minister responsible for defence, security and the fight against corruption and crime Aleksandar Vucic, Deputy Prime Minister and Minister of Foreign and Internal Trade and Telecommunications Rasim Ljajic, Minister of Energy, Development and Environmental Protection Prof. Dr Zorana Mihajlovic, Minister of Health Slavica Djukic Dejanovic, Minister of Regional Development and Local Self-Government Igor Mirovic, Minister of Youth and Sport Vanja Udovicic, Minister of Finance Lazar Krstic, Minister of Defence Dr Nebojsa Rodic, Minister of Education, Science and Technological Development Tomislav Jovanovic, Minister of Transport Aleksandar Antic, Minister of Natural Resources, Mining and Spatial Planning Milan Bacevic, Minister of Culture and Media Ivan Tasovac, Minister of Construction and Urban Planning Velimir Ilic, Minister of Economy Sasa Radulovic, Minister without portfolio responsible for European integration Branko Ruzic and Minister without portfolio in charge of sustainable development of underdeveloped areas Sulejman Ugljanin responded to the MPs' questions.

---
---
monday, 29 november
9.00 - sitting of the Committee on Constitutional and Legislative Issues (National Assembly House, 13 Nikola Pasic Square, hall 2)

11.00 - sitting of the Committee on Constitutional and Legislative Issues (National Assembly House, 13 Nikola Pasic Square, hall 2)