National Assembly of the Republic of Serbia / Activities / Activity details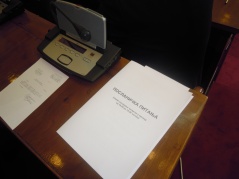 27 December 2012 Parliamentary Questions in December
Thursday, 27 December 2012
Parliamentary Questions in December
On 27 December, in line with article 205, paragraph 1, of the National Assembly Rules of Procedure, the MPs posed various questions to the Government of the Republic of Serbia, from 4.20 to 7.05 pm.
---
Before commencing, National Assembly Speaker MA Nebojsa Stefanovic greeted the students of the Belgrade University Faculty of Law, on the behalf of the MPs and himself, who observed the National Assembly's work from the gallery of the Grand Hall.
MPs Zaharije Trnavcevic, Balint Pasztor, Mirko Cikiriz, Dubravka Filipovski, Cedomir Jovanovic, Sasa Milenic, Slobodan Samardzic, Miletic Mihajlovic, Nada Kolundzija, Momir Stojanovic, Riza Halimi, Bojan Djuric, Stefana Miladinovic, Gorica Mojovic, Jadranka Joksimovic and Ranka Savic posed the parliamentary questions.
Ivica Dacic, Prime Minister of the Republic of Serbia and Minister of Interior, Rasim Ljajic, Deputy Prime Minister and Minister of Foreign and Internal Trade and Telecommunications, Suzana Grubjesic, Deputy Prime Minister for European Integration, Zarko Obradovic, Minister of Education, Science and Technological Development, Mladjan Dinkic, Minister of Finance and Economy, Zorana Mihajlovic, Minister of Energy, Development and Environmental Protection and Milutin Mrkonjic, Minister of Transport, responded to the MPs' questions.

---
---
monday, 29 november
9.00 - sitting of the Committee on Constitutional and Legislative Issues (National Assembly House, 13 Nikola Pasic Square, hall 2)

11.00 - sitting of the Committee on Constitutional and Legislative Issues (National Assembly House, 13 Nikola Pasic Square, hall 2)