National Assembly of the Republic of Serbia / Activities / Activity details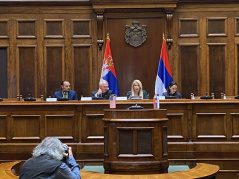 24 April 2023 Participants of the meeting
Monday, 24 April 2023
PFG with US Meets with Ambassador Hill
The Head and members of the Parliamentary Friendship Group with the United States of America met with the Ambassador of the United States of America to the Republic of Serbia Christopher Hill, with whom they discussed a number of current issues and topics.
---
The Head of the PFG with the US Sandra Bozic pointed out that the relations between the two countries are traditionally good, despite times when they were not on the same side of history, and that today the relationship between America and Serbia have entered a new era.
The American Ambassador expressed his satisfaction with the opportunity to talk with the MPs, stressing that these types of meetings should become common practice. Speaking about the relations between the two countries, he stressed that it is the duty of a diplomat to look to the future and that he wants to look at the further course of cooperation between the two countries in that light. Hill emphasised that America has a strong economic and commercial interest in cooperating with Serbia, as illustrated by the 3.6 billion USD that invested in Serbia by the American private sector.
The Ambassador stressed that Serbia plays a vital role in maintaining regional stability and cooperation, emphasising the importance of promoting regional cooperation, best reflected through the Open Balkans and Berlin Process initiatives, and expressed the hope that other countries in the region would also join the Open Balkans.
The Ambassador said that the US supports Serbia on its path to full EU membership but that it does not support the fact that the process is taking so long.
The officials also discussed the situation in Kosovo-Metohija and the relations between Belgrade and Pristina. The Ambassador believes that it is important to strive for normalisation of relations, which should not be interpreted as recognition of the independence of the so-called state of Kosovo. He pointed out that he appreciated what Serbia was trying to do within the dialogue between Belgrade and Pristina.
"I believe that the President of the Republic of Serbia Aleksandar Vucic has shown determination in accepting the EU's proposal for the normalisation of relations and shown that he understands that you all need sincere political courage and sincere political leadership, because the normalisation of relations will be a key step towards Serbia's European future," Hill emphasised.
In the course of the meeting, the US Ambassador also spoke about the conflict between Russia and Ukraine and the position Serbia has taken on that issue.
The meeting was attended by a large number of members of the Parliamentary Friendship Group, one of the biggest in the Parliament.
---
---
| M | T | W | T | F | S | S |
| --- | --- | --- | --- | --- | --- | --- |
| 27 | 28 | 29 | 30 | 1 | 2 | 3 |
| 4 | 5 | 6 | 7 | 8 | 9 | 10 |
| 11 | 12 | 13 | 14 | 15 | 16 | 17 |
| 18 | 19 | 20 | 21 | 22 | 23 | 24 |
| 25 | 26 | 27 | 28 | 29 | 30 | 31 |
saturday, 2 december
No announcements for selected date