National Assembly of the Republic of Serbia / Activities / Activity details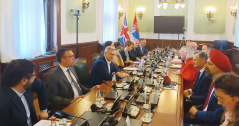 10 July 2023 The PFG with the UK in meeting with the delegation of the UK Parliament
Monday, 10 July 2023
PFG with UK Meets with UK Parliamentary Delegation
The members of the Parliamentary Friendship Group with the United Kingdom met today with a delegation of the Parliament of the United Kingdom, currently in official visit to the Republic of Serbia.
---
At the beginning of the meeting, the Head of the PFG with the United Kingdom Nevena Djuric thanked the Westminster Foundation for its support in organising the meeting with the UK MPs, as well as for its steady long-term cooperation with the National Assembly. She reminded the attending that last year Serbia and the United Kingdom celebrated 185 years of diplomatic relations, expressing the expectation that the overall cooperation between the two countries would further improve in the coming period, especially since the United Kingdom is Serbia's third biggest economic exchange partner, as well as an important partner in one of the largest infrastructure projects - the construction of the Moravian Corridor.
Speaking about current political developments, Djuric pointed out that she expected the British colleagues' support for the de-escalation of the situation in Kosovo-Metohija, hoping that the recent dissonant tones in the British Parliament are only isolated cases.
"Disinformation is not desirable in our bilateral relations and your visit is an opportunity to familiarise yourself with the real situation in Kosovo-Metohija. Serbia is committed to peace and stability, as well as that stability's endurance," said Djuric.
The head of the UK Parliament's delegation, Jackie Doyle-Price, Chair of the All-Party Parliamentary Group for Serbia, pointed out that the views of some British MPs are not the official views of their Parliament and Government. She agreed that the existing relations should be further developed and improved.
The UK Parliamentary delegation also comprised Matthew Offord, Wayne David, Tan Dhesi and Lord Christopher John Rennard, while the members of the PFG with the UK who attended the meeting were Natan Albahari, MA Igor Becic, Milimir Vujadinovic, Radomir Lazovic, Milan Radin, Prof. Dr Jelena Jerinic, Djordje Stankovic, Nikola Nesic, Dusan Maric, Djordje Todorovic, Bojan Torbica and Dr Djordje Miketic.
---
---
| M | T | W | T | F | S | S |
| --- | --- | --- | --- | --- | --- | --- |
| 27 | 28 | 29 | 30 | 1 | 2 | 3 |
| 4 | 5 | 6 | 7 | 8 | 9 | 10 |
| 11 | 12 | 13 | 14 | 15 | 16 | 17 |
| 18 | 19 | 20 | 21 | 22 | 23 | 24 |
| 25 | 26 | 27 | 28 | 29 | 30 | 31 |
saturday, 2 december
No announcements for selected date