National Assembly of the Republic of Serbia / Activities / Activity details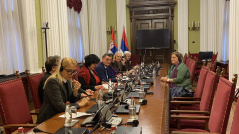 26 January 2023 The participants of the meeting
Thursday, 26 January 2023
PFG with Greece Meets with Greek Ambassador to Serbia
The Head of the Parliamentary Friendship Group with Greece Veroljub Arsic and the members of the group met today at the National Assembly House with Greek Ambassador to Serbia H.E. Maria Levanti.
---
At the very beginning of the meeting, PFG Head Veroljub Arsic wished the newly-elected Greek Ambassador Maria Levanti a hearty welcome and success in her work. Highlighting the traditionally close and friendly relations between the two countries that record constant progress, he stressed that the parliamentary friendship group he heads is one of the largest in the Serbian Parliament, which speaks volumes of the connection between the two nations. Arsic particularly emphasised the close relations of Serbs with the people of Corfu who helped the landing of Serbian soldiers on the Ionian island in World War One.
Ambassador Maria Levanti agreed with Arsic that the relations between the two countries are excellent and friendly and that the two peoples share a similar mentality, common history and spiritual closeness.
Members of the PFG with Greece Jasmina Karanac, Miodrag Gavrilovic, Prof. Dr Tamara Milenkovic Kerkovic, MA Milovan Drecun, Lepomir Ivkovic, Prof. Dr Aleksandra Tomic, Nikola Radosavljevic, Tijana Davidovac and Ana Beloica attended the meeting.
They jointly assessed that it is possible to improve parliamentary cooperation, which is of particular importance for the improvement of overall bilateral cooperation, through an exchange of visits by members of parliamentary friendship groups. Speaking of the excellent cooperation in the field of tourism and culture, the PFG members opined that there is room to improve economic cooperation between the two countries, especially in areas where there is significant untapped potential.
The members of the PFG with Greece informed Ambassador Levanti about the situation and problems faced by our people in Kosovo-Metohija, emphasising that Serbia is committed to peace and stability in the region and is ready for dialogue and compromise. They stressed that Serbia values Greece's support in matters of territorial integrity and sovereignty very highly, pointing out the importance of Greece's active participation in accelerating the process of Serbia's European integration.
Ambassador Maria Levanti stressed that the Greek leadership's attitude has not changed, nor would Greece change its position on the issue of Kosovo, adding that it wanted to see the entire Balkans in the European Union.
---
---