National Assembly of the Republic of Serbia / Activities / Activity details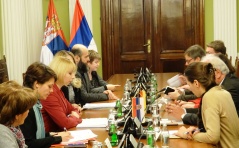 17 March 2017 The members of the PFG with Germany in meeting with the German parliamentary delegation
Friday, 17 March 2017
PFG with Germany Meets with Bundestag's Parliamentary Delegation
The members of the Parliamentary Friendship Group with Germany met today with the delegation of the German Bundestag's Committee for the Scrutiny of Elections, Immunity and the Rules of Procedure, visiting the National Assembly.
---
The Head of the PFG with Germany Vesna Markovic said the 85 strong PFG is one of the biggest in the National Assembly. She said that the relations between Serbia and Germany, though very good, could stand to be improved as regards parliamentary cooperation. Markovic that the numerous meetings of Prime Minister Aleksandar Vucic and German Chancellor Angela Merkel are a good example of the two countries' excellent relations. What is very important for Serbia now is the Berlin Process in the parts concerning infrastructural projects in the region, said the Head of the PFG with Germany. She also stressed that EU accession is Serbia's strategic priority and objective, and that the majority of the National Assembly members support the process. She added that Germany plays an important role in Serbia's EU accession process and actively supports the opening of new chapters. Vesna Markovic hopes that the Bundestag would set up a PFG with Serbia, even though it already has a PFG with the states of South-Eastern Europe, among them Serbia.

Markovic also spoke about the problems rocking the European Union such as the migrant crisis, terrorism and the Brexit fallout, hoping that the EU would find a single and efficient solution to them.

The head of the German delegation Helmut Brandt was pleased by the size of the PFG with Germany saying that it exemplifies the excellent relations between the two countries. He stressed that besides the high-level cooperation, parliamentary cooperation should be intensified for the sake of stability in the Western Balkans. Brandt asked about the National Assembly's control role as regards the Government and the next steps in the EU accession process.

The meeting was attended by PFG members Dr Aleksandra Tomic, Muamer Zukorlic, Dr Muamer Bacevac, Dejan Nikolic, Elvira Kovacs, Nada Lazic and Jasmina Karanac, who briefed the German parliamentarians on the National Assembly's control role, the European integration process, environmental protection, education and the status of national minorities in Serbia.


---
---