National Assembly of the Republic of Serbia / Activities / Activity details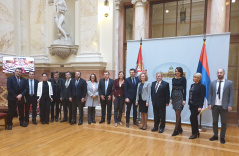 5 December 2018 The PFG with Georgia and the Georgian parliamentary delegation
Wednesday, 5 December 2018
PFG with Georgia Meets with Georgian Parliamentary Delegation
The PFG with Georgia, headed by Dubravka Filipovski met today with the Georgian parliamentary delegation currently in study visit to the Republic of Serbia.
---
Filipovski highlighted the excellent cooperation between the two parliaments and high-tier visits, opining that these should be accompanied by better economic cooperation. She said that a direct flight between Belgrade and Tbilisi could go a long way to promote closer cooperation between the two countries, as would the signing of contractual legislation. The Head of the PFG with Georgia said that the two countries share a very similar culture, the same religion and similar fate, namely European integration and the fight for territorial integrity and sovereignty. Serbia is currently in a very difficult position in the talks with Pristina due to the obstruction of dialogue by the Albanian side which had recently broken the tenets of the Central European Free Trade Agreement (CEFTA) by imposing a 100% tax on goods from central Serbia. Filipovski took the opportunity to thank Georgia for recognizing Serbia's territorial integrity and sovereignty and abiding by Resolution 1244, as well as its support during Kosovo-Metohija's UNESCO and INTERPOL bids. The officials also spoke about European integration with Filipovski mentioning that Serbia has opened 14 negotiation chapters, temporarily closed two, and expects the opening of further three before the end of the year. She went on to say that before it enlarges the family the European Union has some internal problems to deal with, such as Brexit.
Tamar Khulordava of the Georgian parliamentary delegation agreed that the two countries' cooperation has intensified in the past year and a half and that parliamentary cooperation is the key to closer ties overall. She said that Georgia would continue to support Serbia's territorial integrity, adding that she hoped Serbia would do the same when it comes to Georgia's territorial integrity. Khulordava said that Serbia's experience relating to European integration is invaluable for Georgia since it is going through the same process which is its foreign policy priority too. She agreed with PFG Head Dubravka Filipovski that the reforms accompanying the European integration process are very important for Georgia whether their end result is EU accession or not, because they would ensure the further social and economic development of the country in line with EU values.
The officials agreed that the two countries' cooperation could benefit from the opening of diplomatic representative offices in Georgia and Serbia respectively. PFG members Ivana Nikolic, Borka Grubor, Dragan Vesovic, Dragomir Karic and Prof. Dr Ljubisa Stojmirovic also took part in the meeting.


---
---
friday, 24 may
9.00 - National Assembly Deputy Speaker Prof. Dr Vladimir Marinkovic and Head of PFG with Germany Vesna Markovic meet with representatives of Hans-Bockler Foundation (National Assembly House, 13 Nikola Pasic Square, hall 2)

9.00 - sitting of the Committee on the Judiciary, Public Administration and Local Self-Government (National Assembly House, 13 Nikola Pasic Square, hall 4)

9.30 - sitting of the Committee on Constitutional and Legislative Issues (National Assembly House, 13 Nikola Pasic Square, hall 4)