National Assembly of the Republic of Serbia / Activities / Activity details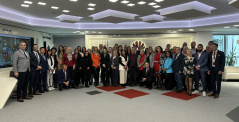 28 March 2023 The members of the Parliamentary Friendship Group with China in visit to Huawei HQ – Centre for Digital Innovation and Digital Development in Belgrade
Tuesday, 28 March 2023
PFG with China Visits Huawei HQ in Belgrade
The members of the Parliamentary Friendship Group with China, headed by Marina Ragus, visited Huawei HQ – Centre for Digital Innovation and Digital Development in Belgrade.
---
On the occasion, Marina Ragus stressed that green energy, sustainable development and modern technologies are topics of mutual interest and significance for the Republic of Serbia and the People's Republic of China, and in its current mandate, the PFG aims to, in cooperation with the Chinese Embassy, learn in more detail about all Chinese investments and their potential in Serbia by visiting local areas.
The PFG members were greeted by representatives of the Huawei Belgrade Office Nikola Lazic, Igor Milojevic and Emil Kostic.
They presented the company's project activities, stressing that it employs about 200,000 people in over 170 countries around the world. More than 50% of the employees are engaged in technology research and development.
They went on to say that with its about 30 years in operation, the company is relatively young and is among leading global brands.
Huawei's primary branch is IT infrastructure, but it also covers other areas such as digital energy solutions, the automotive sector etc.
They said that over 130 billion RSD has been invested in technology research and development in the last 10 years and the plan is to invest a similar amount in the coming five years. Huawei ranks fourth in the industry and is transforming into a technology leader on par with leading world companies.
---
Photo gallery
---
---
sunday, 10 december
No announcements for selected date