National Assembly of the Republic of Serbia / Activities / Activity details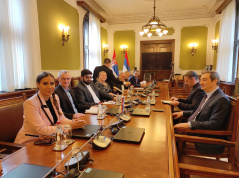 6 February 2023 The participants of the meeting
Monday, 6 February 2023
PFG with Azerbaijan Meets with Azerbaijani Ambassador to Serbia
The Head of the Parliamentary Friendship Group with Azerbaijan Dusan Maric and PFG members met today at the National Assembly House with the Azerbaijani Ambassador to Serbia H.E. Kamil Khasiyev.
---
PFG Head Dusan Maric welcomed the Ambassador, highlighting the traditionally good and friendly relations between the two countries. He recalled Serbian President Aleksandar Vucic's recent visit to Baku, where he met with the President of Azerbaijan Ilham Aliyev, as excellent proof of the exceptional bilateral relations between the two countries.
Maric thanked the leadership of Azerbaijan for the principled stand of non-recognition of so-called Kosovo and support for Serbia's territorial integrity and sovereignty in numerous international organizations. He stressed that Serbia attaches special importance to its strategic partnership with Azerbaijan and that in the coming period we need to work together to strengthen economic and all other types of cooperation.
Azerbaijani Ambassador Kamil Khasiyev agreed with the PFG Head that the relations between the two countries are at a high level, pointing out that there is room for cooperation in the fields of culture, agriculture, economy and especially in the field of energy. He expressed hope that the gas pipeline project that has reached Bulgaria would soon be finished and that Azerbaijani gas would soon reach Serbia.
Ambassador Khasiyev reaffirmed that his country, as a sincere friend to Serbia, stands by its position on the issue of so-called Kosovo, adding that Azerbaijan would continue to support Serbia's territorial integrity and sovereignty.
The meeting was attended by PFG members MA Danijela Vujicic, Zaim Redzepovic, Draginja Vlk, Srdjan Milivojevic, Jahja Fehratovic, Rodoljub Stanimirovic and Stefan Jovanovic.
They jointly assessed that there is room to improve cooperation in the fields of economy, culture, tourism, youth, as well as in terms of gender equality. They also recalled that last year marked the 25th anniversary of the establishment of official diplomatic relations and spoke of infrastructure projects and Azerbaijani companies present in Serbia.
---
---
sunday, 11 june
No announcements for selected date