National Assembly of the Republic of Serbia / Activities / Activity details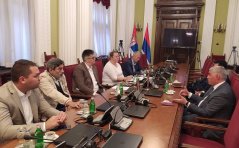 7 October 2021 The members of the Parliamentary Friendship Group with Armenia in meeting with the non-resident Armenian Ambassador
Thursday, 7 October 2021
PFG with Armenia Meets with Non-Resident Armenian Ambassador
The Head of the Parliamentary Friendship Group with Armenia Aleksandar Cotric and PFG members Bojan Torbica, Prof. Dr Ljubisa Stojmirovic and Milan Ilic met today at the National Assembly with H.E. Ashot Hovakimyan, non-resident Armenian Ambassador, to discuss the anniversary of Armenia's independence.
---
PFG Head Aleksandar Cotric congratulated Ambassador Hovakimyan on the 30 years of renewed independence of Armenia, stressing that our two countries have very well-developed bilateral relations and that the planned opening of a Serbian Embassy in Armenia would further contribute to the development of relations and cooperation.
Cotric said that one of the effects of the global crisis caused by the coronavirus pandemic is a reduced intensity of cooperation in the fields of economy and tourism, as well as between parliaments, and expressed hope that conditions for their return to previous levels would soon be created. Serbia's decision to abolish visas for Armenian citizens will bring the two nations, which are very close in the spiritual sense and mentality, even closer together, said Aleksandar Cotric. He added that the very active Armenian community in Serbia is one of the bridges of cooperation that connects our two countries.
Ambassador Ashot Hovakimyan agreed that the two countries have very well-developed diplomatic relations and enjoy a high level of cultural cooperation. As Serbia and Armenia have signed an agreement on cooperation between their respective universities, he opined that there would be a development of relations in the field of education as well.
In the course of the meeting, the officials also discussed the current situation in Armenia. Cotric expressed hope that the conflict in Nagorno-Karabakh would be resolved peacefully and diplomatically, and that the Armenian civilian and military prisoners would be released as soon as possible. He also said that it is vital to protect Armenian historical and cultural goods in the area. Aleksandar Cotric thanked the Ambassador for Armenia's principled position and non-recognition of the so-called the state of Kosovo and its support of Serbia's European integration.
---
---
sunday, 1 october
No announcements for selected date