National Assembly of the Republic of Serbia / Activities / Activity details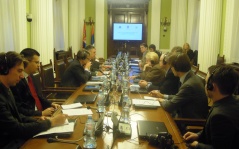 10 December 2012 Participants of presentation on the Nordic model of cooperation
Monday, 10 December 2012
Nordic Model of Cooperation Presented at National Assembly
The National Assembly hosted a presentation of the Nordic model of cooperation yesterday, so as to consider its potential implementation to improve interparliamentary cooperation in the countries signatories to the Dayton Agreement.
---
On the behalf of the National Assembly Speaker, MA Nebojsa Stefanovic, the participants of the presentation were first addressed by the Speaker's advisor, Miodrag Popovic, who emphasised that the important characteristics of the Nordic model of cooperation which the countries should employ are respecting differences, the existence of political will for cooperation, as well as the close cooperation the countries achieve in international forums. He added that there is a vision of cooperation in the region and that the Igman Initiative indicates the potential direction and manner in which the cooperation should develop.
The Co-Chairman of the Igman Initiative for Serbia, Aleksandar Popov, briefed the participants on the activities of the initiative, in existence since 2000 and gathering more than 140 non-governmental organisations from Bosnia and Herzegovina, Croatia, Serbia and Montenegro. Popov stressed that the Nordic model of cooperation is closest to the region's needs, pointing out the importance the Nordic countries place on interparliamentary cooperation.
Norwegian Ambassador to Serbia Ragnar Kamsvag, spoke of the work of the Nordic Council, stressing that improving mutual understanding and dialogue is a pre-requisite for the development of the region. The participants were also addressed by the ambassadors of Denmark and Sweden to Serbia, Mette Kjuel Nielsen and Christer Asp, respectively.
The ensuing discussion, in which MPs Balint Pasztor and Zoran Babic took part, focused on the potentials for the implementation of the experience of the Nordic countries in order to improve the relations between the countries in the region, based on common priorities and through various cooperation programmes.

---
---
tuesday, 29 september
No announcements for selected date