National Assembly of the Republic of Serbia / Activities / Activity details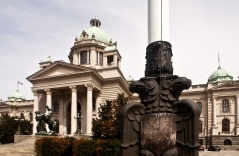 Wednesday, 19 December 2012
New Content on National Assembly's Webpage
Following the examples of good practice of parliaments around the world and continuing its outreach to the citizens and public in the effort to present the results of its work, the National Assembly has begun to publish the voting results of the current National Assembly legislature on its webpage.
---
This enables concerned citizens to see and read how the MPs have voted on the bills and proposals of other acts passed by the National Assembly.
In addition to the voting results, the webpage also publishes the shorthand notes of the National Assembly sessions, so as to keep the public informed on the MPs' addresses at the National Assembly sessions.
The webpage also contains documents generated in the work of the National Assembly's working bodies, all the adopted laws, bills and other acts in assembly procedure, analytical data on the National Assembly's work, as well as various types of information on the MPs' work.
The National Assembly has also introduced a section titled National Assembly in Numbers which contains statistical data on the current and previous National Assembly legislatures, and which will be regularly updated with new and available data.
A particularly important innovation is the practice of an electronic informative newsletter, to be published once a month on the National Assembly's webpage. The electronic newsletter will be a reliable source of information on the National Assembly's work, allowing the National Assembly to approach the public in a new and modern way.
The National Assembly will continue to introduce new content, making as much information and data on the MPs' work available to the public, which will be additionally aided by the introduction of the e-Parliament (electronic document management system).
We would like to invite the citizens to visit the National Assembly's webpage on www.parlament.rs.

---
---
tuesday, 29 september
No announcements for selected date