National Assembly of the Republic of Serbia / Activities / Activity details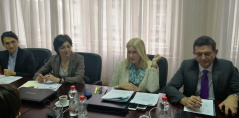 8 February 2018 Deputy Speaker Arsic and Secretary General Bulajic in meeting with UNDP/SDC representatives
Thursday, 8 February 2018
National Assembly and UNDP/SDC Continue Cooperation on Project "Strengthening the Oversight Role and Transparency of the National Assembly of the Republic of Serbia – Phase Two"
The team supervising project "Strengthening the Oversight Role and Transparency of the National Assembly of the Republic of Serbia – phase two" had a meeting on 8 February 2018 at the National Assembly.
---
The meeting was opened by National Assembly Deputy Speaker Veroljub Arsic who said that the project the National Assembly is conducting with the United Nations Development Programme (UNDP) and the Swiss Agency for Development and Cooperation (SDC) is an example of a successful best practice in the country and the region, emphasizing how important it is to keep developing the Public Finance Supervision Portal.
Dr Milorad Mijatovic, coordinator of the Focus Group for the Development of Control Mechanisms for the Process of Implementation of the Sustainable Development Goals in the Republic of Serbia, presented the results of the parliamentary oversight mechanisms and announced the regional seminar scheduled for May 2018.
National Assembly Secretary General Svetislava Bulajic thanked UNDP/SDC for its support underlining the National Assembly's key role in budget control and accompanying accountability. She said that it is essential to develop a professional National Assembly Support Service operating at the highest European standards in course of the EU association process. The Secretary General also added that a 2018-2020 Development Strategy for the service and Legislative Drafting Rulebook are being prepared and pointed out the need to continue with the project so as to bring these procedures to a successful end.
The meeting was attended by the Director of the Swiss Agency for Development and Cooperation Ursula Läubli, UNDP Deputy Resident Representative Steliana Nedera and representatives of UNDP Serbia who commended the progress of the project activities at the National Assembly.
The ensuing discussion focused on the plans for the coming period mainly the development of communication mechanisms between the citizens and local assemblies, strengthening the National Assembly's control role and further development of public spending control mechanisms.
Also, a training centre was officially opened under the auspices of the project at the National Assembly Building, 14 Kralja Milana Street, 3rd floor, technically equipped for seminars and trainings for the National Assembly support staff.
---
---
saturday, 3 june
No announcements for selected date