National Assembly of the Republic of Serbia / Activities / Activity details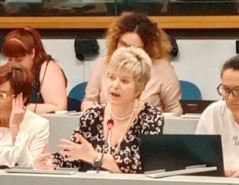 11 July 2023 National Assembly Deputy Speaker and European Integration Committee Chairperson Elvira Kovacs
Tuesday, 11 July 2023
National Assembly Takes Part in SAPC Meeting
National Assembly Deputy Speaker and European Integration Committee Chairperson Elvira Kovacs took part in the meeting of the European Union-Serbia Stabilisation and Association Parliamentary Committee (SAPC) held on 11 July 2023 in Brussels.
---
The meeting was co-chaired by Minister of European Integration Tanja Miscevic and Acting Director of the Directorate-General for Neighbourhood and Enlargement Michaela Matuella. The meeting focused on the political and economic criteria the Republic of Serbia should meet in the EU accession process, the EU's financial support for Serbia and the implementation of the Stabilisation and Association Agreement.
Deputy Speaker Kovacs spoke of the role of the National Assembly in the EU accession process, the process of parliamentary dialogue with the support of the European Parliament and the National Assembly's activities relating to independent regulatory bodies.
---
---
| M | T | W | T | F | S | S |
| --- | --- | --- | --- | --- | --- | --- |
| 27 | 28 | 29 | 30 | 1 | 2 | 3 |
| 4 | 5 | 6 | 7 | 8 | 9 | 10 |
| 11 | 12 | 13 | 14 | 15 | 16 | 17 |
| 18 | 19 | 20 | 21 | 22 | 23 | 24 |
| 25 | 26 | 27 | 28 | 29 | 30 | 31 |
saturday, 2 december
No announcements for selected date