National Assembly of the Republic of Serbia / Activities / Activity details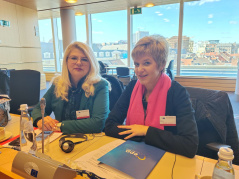 27 February 2023 The participants of the Conference
Monday, 27 February 2023
National Assembly Takes Part in European Parliamentary Week
National Assembly Deputy Speaker and Europea Integration Committee Chairperson Elvira Kovacs and Deputy Chairperson of the Committee on Economy, Regional Development, Trade, Tourism and Energy Dr Aleksandra Tomic are taking part in the Interparliamentary Conference on Stability, Economic Coordination and Governance in the EU held under the auspices of the European Parliamentary Week.
---
The Conference will be held in the European Parliament in Brussels, on 27 and 28 February 2023.
In addition to the members of the European Parliament, the Conference will be attended by representatives of the parliaments of EU member states, candidate countries and other guests.
---
---
friday, 9 june
No announcements for selected date