National Assembly of the Republic of Serbia / Activities / Activity details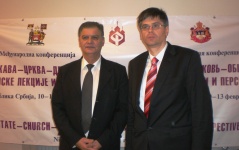 12 February 2014 The members of the National Assembly's standing delegation to IAO at the conference of the International Foundation for the Unity of Orthodox Christian Nations
Friday, 14 February 2014
National Assembly Standing Delegation to IAO at Orthodox Christian Nations Unity Foundation Conference
The standing delegation of the National Assembly of the Republic of Serbia to the Interparliamentary Assembly on Orthodoxy (IAO), comprising Prof. Dr Mileta Poskurica, Head of the standing delegation, and Aleksandar Cotric, member of the standing delegation, took part in the 20th annual conference of the International Foundation for the Unity of Orthodox Christian Nations, 10-13 February 2014, in Nis, Serbia.
---
The topic of this year's conference, attended by MPs as well as representatives of governments, church dignitaries and scientific workers from more than 20 countries, was "State - church – society: historical lessons and perspectives".

The delegation members said that modern Serbia follows the ideas of Constantine the Great, highlighting the need to strengthen dialogue, religious freedoms and tolerance. They also spoke of the difficult position of the populace of Kosovo-Metohija and the efforts of the Serbian Government and Church to find an optimum solution for the survival of the Serbian people on the territory they inhabited for centuries, as well as strengthen the institutions which would allow them to live in dignity and enjoy their human and religious rights.

The conference took place in Nis, the birthplace of Emperor Constantine the Great who issued the Edict of Milan allowing the spread of Christianity on the territory of the Roman Empire by declaring religious equality and putting an end to the 300-year persecution of Christians. Following the celebration of the Edict of Milan in Serbia in 2013, the conference reaffirmed the need to promote high Christian and cultural values in modern society and thanked the Foundation for the good work it has been doing in Serbia.

The opening ceremony and the conference were attended by high state and church dignitaries of the Republic of Serbia and representatives of the diplomatic corps in Serbia.

---
---
thursday, 23 january
9.30 - sitting of the Committee on Constitutional and Legislative Issues (National Assembly House, 13 Nikola Pasic Square, hall 2)

10.00 - continuation of the 19th Extraordinary Session of the National Assembly of the Republic of Serbia, 11th Legislature (National Assembly House, 13 Nikola Pasic Square)

11.00 - sitting of the Committee on Finance, State Budget and Control of Public Spending (National Assembly House, 13 Nikola Pasic Square, hall 2)

14.00 - press conference of MP Bosko Obradovic (National Assembly House, 13 Nikola Pasic Square, Central Hall)

14.00 - sitting of the Foreign Affairs Committee (National Assembly House, 13 Nikola Pasic Square, hall 2)

14.15 - press conference of MP Miroslav Aleksic (National Assembly House, 13 Nikola Pasic Square, Central Hall)

15.00 - press conference of MP Nedjo Jovanovic (National Assembly House, 13 Nikola Pasic Square, Central Hall)

15.50 - press conference of MP Aleksandar Markovic (National Assembly House, 13 Nikola Pasic Square, Central Hall)