National Assembly of the Republic of Serbia / Activities / Activity details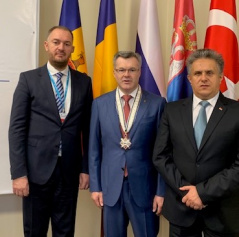 28 November 2018 The National Assembly delegation at the PABSEC session in Yerevan
Wednesday, 28 November 2018
National Assembly Standing Delegation at 52st PABSEC General Assembly in Yerevan
The National Assembly standing delegation to the Parliamentary Assembly of the Black Sea Economic Cooperation (PABSEC) headed by MA Igor Becic, and comprising members Milija Miletic and Ivan Kostic, took part in the organization's 52th General Assembly in Yerevan, Armenia, 26 - 28 November.
---
Besides the Republic of Serbia, the session was also attended by the parliamentary delegations of Armenia, Albania, Azerbaijan, Bulgaria, Greece, Georgia, Moldova, Romania, Russian Federation, Turkey and Ukraine.
The main topic of the General Debate was: "The Role of Parliaments in the Development of Regional Economic Cooperation".
In his address, the Head of the standing delegation MA Igor Becic said that the Republic of Serbia is deeply committed to the economic and social reform launched by then Prime Minister and now President of Serbia Mr Aleksandar Vucic. The GDP growth is expected to exceed 4% by the end of the year, as is a budget surfeit. Serbia is the regional leader in attracting investments and is hard at work on improving the business climate to increase the number of investors even more. Serbia's priorities are to continue working on improving the competitiveness of its economy, reform public companies, improve public administration and promote e-government. Digitalization is another of Serbia's key priorities, especially in the fields of economy, public administration and education. MP Becic highlighted the important role the National Assembly plays in Serbia's overall reforms as the bearer of legislative power. He urged for an integrated, comprehensive and sustainable economic growth in the region, job creation, as well as the development of economy, energy, infrastructure and tourism and international affirmation of the region.
In the course of the 52th PABSEC General Assembly the standing delegation endorsed the recommendations concerning the development of tourism in the BSEC region, development and support of small and medium-sized business enterprises in the BSEC member states, and the role of trade unions in strengthening economic cooperation in the BSEC region.
In the course its stay in Yerevan the National Assembly delegation headed also had a series of bilateral contacts.


---
---
thursday, 9 april
13.00 - press conference of MPs Sasa Radulovic, Branka Stamenkovic and Vojin Biljic (National Assembly House, 13 Nikola Pasic Square, Central Hall)