National Assembly of the Republic of Serbia / Activities / Activity details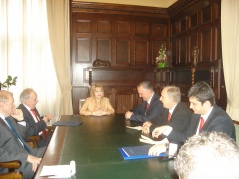 14 March 2012 National Assembly Speaker Prof. Dr Slavica Djukic Dejanovic spoke to the Minister of Foreign Affairs of Bosnia and Herzegovina Zlatko Lagumdzija
Wednesday, 14 March 2012
National Assembly Speaker with Zlatko Lagumdzija
The Speaker of the National Assembly of the Republic of Serbia, Prof. Dr Slavica Djukic Dejanovic spoke to the Minister of Foreign Affairs of Bosnia and Herzegovina Zlatko Lagumdzija.
---
National Assembly Speaker Slavica Djukic Dejanovic was pleased that a government had been formed at the level of Bosnia and Herzegovina and congratulated Zlatko Lagumdzija on being appointed Minister of Foreign Affairs.
Discussing the bilateral relations between Serbia and Bosnia and Herzegovina, the officials noted some positive developments, but added that there was still room for improvement, particularly on the parliamentary level. Parliamentary diplomacy, and in that context, parliamentary cooperation between Serbia and Bosnia and Herzegovina, can have a significant positive influence on both countries' executive authorities' efforts on promoting the existing relations and addressing numerous issues.

---
---
friday, 18 september
No announcements for selected date