National Assembly of the Republic of Serbia / Activities / Activity details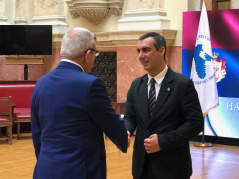 23 September 2022 The National Assembly Speaker and the Secretary General of the Parliamentary Assembly of the Black Sea Economic Cooperation
Friday, 23 September 2022
National Assembly Speaker with Asaf Hajiyev Discuss PABSEC Session in Belgrade: Serbia Always Excellent Host
The Speaker of the National Assembly of the Republic of Serbia Dr Vladimir Orlic met today with the Secretary General of the Parliamentary Assembly of the Black Sea Economic Cooperation (PABSEC) Asaf Hajiyev. The main topic of discussion was the logistical and technical details regarding the organisation of the 60th PABSEC plenary session scheduled to be held in Belgrade at the end of the year.
---
Dr Orlic expressed particular satisfaction at the opportunity for the National Assembly of the Republic of Serbia to host the session, pointing out that any parliamentary meeting is a unique opportunity for dialogue.
The officials agreed that Serbia is a stable and safe country with rich experience in organising important international events, with Hajiyev underlining that the partnership between Serbia and PABSEC has always been at a high level, which is another signal that our country would be an excellent host of the plenary session.
Dr Orlic emphasised Serbia's readiness to once again prove itself as a good host, reminding the guest that in October 2019, the National Assembly hosted the delegations of the 141st Assembly of the Inter-Parliamentary Union (IPU), the organisation of which garnered positive remarks.
The National Assembly Speaker opined that the plenary session would be an opportunity for an open dialogue on important issues, especially in light of the complicated and delicate situation in the world. "Speaking of the principles we are fighting for today, our country is recognisable for its commitment to preserving territorial integrity and sovereignty. You could have heard that from the President of Serbia, Aleksandar Vucic, in his address at the General Assembly of the United Nations two days ago. And while some perceive territorial integrity as a phrase and platitude, for us it is a principle," said Dr Orlic. As he pointed out, everyone is welcome in Serbia.
The PABSEC Secretary General underlined that it goes without saying that Serbia and Belgrade, as experienced and great hosts generally known for their hospitality, would organise the PABSEC plenary session at the highest possible level. "We will have the opportunity to once again enjoy Belgrade and everything it has to offer," said Hajiyev.
The National Assembly Speaker thanked Hajiyev for the PABSEC Observation Mission's positive assessment of the parliamentary and presidential elections in the Republic of Serbia on 3 April 2022. The PABSEC Observation Mission declared the voting well organised, conducted in a democratic and fair environment and in strict accordance with the law.
---
Photo gallery
---
---
saturday, 10 december
No announcements for selected date