National Assembly of the Republic of Serbia / Activities / Activity details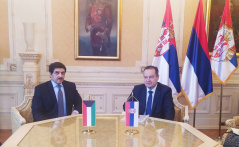 14 June 2022 The National Assembly Speaker in meeting with the Ambassador of the State of Kuwait to the Republic of Serbia
Tuesday, 14 June 2022
National Assembly Speaker Receives Kuwaiti Ambassador to Serbia
The Speaker of the National Assembly of the Republic of Serbia Ivica Dacic received the Ambassador of the State of Kuwait Yousef Ahmed Abdulsamad in farewell visit today.
---
National Assembly Speaker Ivica Dacic stressed that the bilateral relations between the two countries are following an upward trend and thanked Ambassador Yousef Ahmed Abdulsamad for the efforts he invested into advancing the cooperation between the two countries during his term in office. The Assembly Speaker emphasised that geographical distance must not be a hindrance to the development of friendly relations between the two peoples which have enjoyed historically good relations, dating back to the times of the Non-Aligned Movement, and are to celebrate the 60th anniversary of the establishment of diplomatic relations next year.
Ambassador Abdulsamad agreed that the bilateral relations are good and that efforts should be invested into developing them further. He thanked the National Assembly Speaker for his contributions to the advancement of cooperation both at this and at his previous posts.
The officials agreed that contacts should be intensified by fostering cooperation between the heads of parliament and friendship groups the formation of which would be a priority for the next Assembly legislature.
The National Assembly Speaker wished the Ambassador all the best in his future career.
---
Photo gallery
---
---