National Assembly of the Republic of Serbia / Activities / Activity details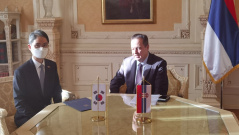 23 November 2021 The National Assembly Speaker and the Ambassador of the Republic of Korea to the Republic of Serbia
Tuesday, 23 November 2021
National Assembly Speaker Receives Korean Ambassador in Farewell Visit
The Speaker of the National Assembly of the Republic of Serbia Ivica Dacic received the Ambassador of the Republic of Korea to Serbia Hyoung-chan Choe in farewell visit today.
---
National Assembly Speaker Ivica Dacic thanked Ambassador Choe for his contributions to the development of bilateral relations, stressing that they have experienced significant progress in recent years, both in the economic and other spheres.

Ambassador Choe said that, during his mandate, he had tried to promote Serbia as an attractive investment destination for Korean companies, expressing satisfaction that these efforts had yielded results. He stressed that he would remain a friend of Serbia even after his return to the Republic of Korea and that he would continue to work on promoting relations between the two countries. He went on to say that he is very pleased that interest in Korean culture and language is growing in Serbia. He was grateful for the hospitality, support and friendly attitude he encountered in Serbia, especially emphasising the good cooperation he had with Ivica Dacic, both as Minister of Foreign Affairs and Speaker of the National Assembly.

The National Assembly Speaker wished Ambassador Choe a successful continuation of his career.



---
Photo gallery
---
---
tuesday, 7 december
9.00 - sitting of the Committee on Finance, State Budget and Control of Public Spending (National Assembly House, 13 Nikola Pasic Square, hall 3)

9.00 - sitting of the Committee on the Judiciary, Public Administration and Local Self-Government (National Assembly House, 13 Nikola Pasic Square, hall 2)

9.00 - 52nd meeting of the National Assembly Collegium (National Assembly House, 13 Nikola Pasic Square, hall 1)

10.00 - 11th Sitting of the Second Regular Session of the National Assembly of the Republic of Serbia in 2021 (National Assembly House, 13 Nikola Pasic Square)

11.00 - National Assembly Deputy Speaker Stefan Krkobabic meets with a delegation led by the Head of the Georgian Royal House H.R.H. Prince Davit Bagration Muhranbatoni (National Assembly House, 13 Nikola Pasic Square, library)

11.00 - the Head of the National Assembly's standing delegation to NATO PA meets with the Ukrainian Ambassador to Serbia (National Assembly House, 13 Nikola Pasic Square, hall 2)

11.45 - press conference of National Assembly Deputy Speaker Stefan Krkobabic and H.R.H. Prince Davit Bagration Muhranbatoni (National Assembly House, 13 Nikola Pasic Square, Central Hall)

12.30 - sitting of the Foreign Affairs Committee (National Assembly House, 13 Nikola Pasic Square, hall 2)

13.00 - sitting of the Culture and Information Committee (National Assembly House, 13 Nikola Pasic Square, hall 3)

15.00 - National Assembly Speaker Ivica Dacic meets the Ambassador of the Kingdom of Bahrain (National Assembly House, 13 Nikola Pasic Square, diplomatic salon of Prince Pavle Karadjordjevic)