National Assembly of the Republic of Serbia / Activities / Activity details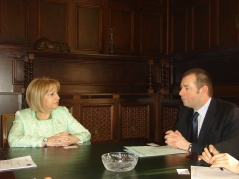 28 February 2012 National Assembly Speaker Prof. Dr Slavica Djukic Dejanovic receives Council of Europe Parliamentary Assembly rapporteur Jean-Charles Gardetto
Tuesday, 28 February 2012
National Assembly Speaker Receives Gardetto
The Speaker of the National Assembly of the Republic of Serbia Prof. Dr Slavica Djukic Dejanovic received the Council of Europe Parliamentary Assembly rapporteur Jean-Charles Gardetto, tasked with preparing a report on "Gender Equality in South East-Europe".
---
The report aims to assess the progress achieved, identify flaws and give specific recommendations on how to achieve gender equality in the countries of South-East Europe.
Gardetto stated that as far as legislation is concerned, Serbia has no problems in the sphere of gender equality, but difficulties arise when it comes to implementation of said laws resulting primarily from economic causes and the level of social awareness on the issue. The officials opined that efforts are being made to overcome the situation. They stressed that the media play an important role in education and prevention.
The Council of Europe Parliamentary Assembly rapporteur also mentioned that he was pleased with the excellent cooperation with the Serbian delegation to the Council of Europe PA.

---
---
wednesday, 4 october
9.00 - sitting of the Committee on Finance, State Budget and Control of Public Spending (National Assembly House, 13 Nikola Pasic Square, hall 2)

10.00 - the National Assembly Speaker meets with the Chinese Ambassador to Serbia (National Assembly House, 13 Nikola Pasic Square, hall 1)

12.00 - sitting of the Culture and Information Committee (National Assembly House, 13 Nikola Pasic Square, hall 4)