National Assembly of the Republic of Serbia / Activities / Activity details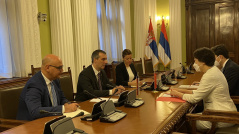 5 August 2022 The National Assembly Speaker in meeting with the Chinese Ambassador to Serbia
Friday, 5 August 2022
National Assembly Speaker Receives Chinese Ambassador to Serbia
The Speaker of the National Assembly of the Republic of Serbia Dr Vladimir Orlic met today with the Ambassador of the People's Republic of China to Serbia Chen Bo who presented him with a letter of congratulations from the Chairman of the Standing Committee of the National People's Congress of the People's Republic of China Li Zhanshu on his election for National Assembly Speaker.
---
She stressed that China's National People's Congress is ready to continue the successful cooperation with the National Assembly and the newly elected Speaker.
Speaker Orlic said how very pleased he was that the meeting with the Chinese Ambassador was his first official meeting after assuming office, stressing that it is an extraordinary confirmation of the friendly relations and eternal friendship, and, as the leaders of the two countries, presidents Xi Jinping and Aleksandar Vucic, often point out, as the ones most responsible for establishing such relations between the two states and two peoples - steel friendship.
Speaker Orlic expressed his gratitude for the principled position and constant support of the People's Republic of China in the matter of preserving the sovereignty and territorial integrity of the Republic of Serbia. He emphasised that China also has the Republic of Serbia's full support in matters of sovereignty and territorial integrity of the People's Republic of China reaffirming Serbia's principled support of the One China policy.
The National Assembly Speaker stressed that the Serbian people will be eternally grateful for the support and help China provided in the most difficult moments, especially during the pandemic, that we are proud of the significant Chinese investments successfully implemented in Serbia, as well as the numerous infrastructure projects that are of the greatest importance for our country.
The officials agreed that the cooperation between Serbia and China has achieved exceptional results across the board, expressing hope and willingness to continue with it.
---
Photo gallery
---
---
thursday, 6 october
10.15 - the National Assembly Speaker meets with the Iranian Deputy Foreign Minister (National Assembly House, 13 Nikola Pasic Square, hall 1)

10.30 - press conference of MPs Radomir Lazovic and Robert Kozma (National Assembly House, 13 Nikola Pasic Square, Central Hall)

11.00 - sitting of the Environmental Protection Committee (National Assembly House, 13 Nikola Pasic Square, hall 3)

11.00 - sitting of the Committee on Administrative, Budgetary, Mandate and Immunity Issues (National Assembly House, 13 Nikola Pasic Square, hall 4)

12.00 - the Chairman of the Foreign Affairs Committee meets with the Polish Ambassador to Serbia (National Assembly House, 13 Nikola Pasic Square, hall 2)

13.30 - press conference of MP Dejan Bulatovic (National Assembly House, 13 Nikola Pasic Square, Central Hall)

14.00 - the Chairman of the Foreign Affairs Committee meets with the UK Ambassador to Serbia (National Assembly House, 13 Nikola Pasic Square, hall 2)