National Assembly of the Republic of Serbia / Activities / Activity details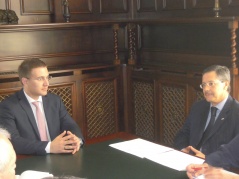 9 August 2012 National Assembly Speaker MA Nebojsa Stefanovic and Algerian Ambassador to Serbia Abdelkader Mesdoua
Thursday, 9 August 2012
National Assembly Speaker Receives Algerian Ambassador
Today, at the National Assembly House, National Assembly Speaker MA Nebojsa Stefanovic received the Algerian Ambassador and doyen of the African-Arab Diplomatic Corps in Serbia Abdelkader Mesdoua.
---
Ambassador Mesdoua presented the National Assembly Speaker with the letter of congratulations of the Speaker of the People's National Assembly of Algeria, Dr Mohamed Larbi Ould Khelifa, in which he expresses readiness to strengthen and develop the relations of cooperation and understanding between the two parliaments so as to further fortify the existing relations between the two friendly nations and raise them to a higher level.
Joining the congratulations and good wishes, Ambassador Mesdoua said that they are not a courtesy, but friendly wishes, reminding of the 50-year-long history of friendly and close relations between the two countries dating from the liberation struggle and support of the Algerian revolution and independence.
Noting that, since the 1990s, both countries have gone through a turbulent period, the Ambassador mentioned that the relations have decreased in intensity, even though Algeria never closed its Embassy in Belgrade. Algeria, he added, supports Serbia's attempts to preserve its territorial integrity and sovereignty despite all the pressure, but it also endorses the dialogue on the issue of Kosovo-Metohija, with the mediation of the European Union. Ambassador Mesdoua pointed out that, in the previous period, the Serbian parliament had failed to create a friendship group with Algeria, or any African or Arab country. He informed Speaker Stefanovic that, following an election, Algeria too had created a new Government and parliamentary majority, and that there was interest in cooperation with the Serbian Parliament and all other institutions. He proposed to organise a meeting between the African-Arab Diplomatic Corps and representatives of the National Assembly at the beginning of the autumn session to discus expanding the cooperation framework. In addition, he suggested organising a return visit of the Chair of the Algerian Parliament to the National Assembly, considering that the Serbian Parliament Speaker had visited Algeria in 2009.
National Assembly Speaker MA Nebojsa Stefanovic thanked the Ambassador for the congratulations, stressing that Serbia saw Ambassador Mesdoua and Algeria as friends of the Serbian people. He said that the intention was to establish better cooperation with traditional friends and expand the aspects of said cooperation to include economic issues, which the parliamentarians should contribute to.

The National Assembly Speaker announced that the ratification of the agreement with Algeria would soon be before the Parliament, underlining the aspects of cooperation in defense industry. Stefanovic added that he was sorry that a friendship group with Algeria had not been created yet, adding that he would make sure it was among the first to be organised in the new parliamentary legislature. He also said that an invitation to the Algerian Parliament Speaker to visit Serbia would soon be sent and expressed expectation that it would take place as soon as the beginning of the autumn session.
---
---