National Assembly of the Republic of Serbia / Activities / Activity details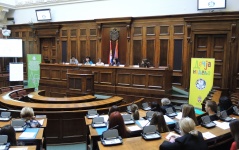 6 October 2015 The National Assembly Speaker and the student parliament
Tuesday, 6 October 2015
National Assembly Speaker Opens Student Parliament at National Assembly House
As part of Children's Week, the Speaker of the National Assembly of the Republic of Serbia and Chairperson of the Committee on the Rights of the Child Maja Gojkovic opened the student parliament session at the National Assembly House with the topic "Student parliaments as the creators of the climate of family support – challenges and opportunities".
---
Greeting the high-schoolers, Gojkovic emphasised the importance of Children's Week saying that Serbia wakes up in that week and starts thinking more about the young generation. On the occasion, the National Assembly Speaker said she would like to have more opportunities to meet with young people to discuss parliamentary life in Serbia and answer their questions about the parliamentarians' work.

Gojkovic also informed the attending about the scope of the Committee on the Rights of the Child and explained how a law is passed.

"Today, you will debate the important topic of family support, and family support is actually support for you. I would like to hear what you have to say on the matter and what you think the Serbian society should do for your families and for you to be able to exercise one of the most important of your rights - the right to be happy children in happy families. I know you all face the many challenges and problems troubling your parents in the 21st century and I truly hope we will recognise all of your problems on time and help you become good people who will one day be leading this country and I wish you all the best in today's session", concluded the National Assembly Speaker.

The students were then addressed by the Director of the organisation Friends of the Children of Serbia Iva Erakovic, after which they commenced the simulation of the National Assembly session.


---
---
friday, 21 january
13.00 - meeting of the Inter-Party Dialogue Control Body (National Assembly House, 13 Nikola Pasic Square, hall 1)