National Assembly of the Republic of Serbia / Activities / Activity details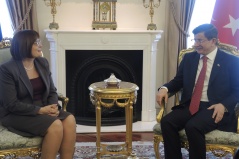 14 April 2015 The National Assembly Speaker and the Turkish Prime Minister
Tuesday, 14 April 2015
National Assembly Speaker Meets with Turkish Prime Minister
In the course of her official visit to Turkey, the Speaker of the National Assembly of the Republic of Serbia Maja Gojkovic met with Turkish Prime Minister Ahmet Davutoğlu.
---
The officials opined that Serbia and Turkey are ready to intensify cooperation, adding that the relations between Serbia and Turkey are of great regional importance.

The National Assembly Speaker said that Serbia spares no effort to build good-neighbourly relations and political cooperation in the region. Gojkovic said that it is in both countries' interest to strengthen political, economic and cultural relations.

"We are sure these high-level meetings will further our relations", said Gojkovic.

Gojkovic stressed that Serbia wants Turkey to increase its economic presence in the country and believes that to also be in Turkey's interest since Serbia is a good environment for investments as it is the safest country to invest in in the region.

Turkish Prime Minister Ahmet Davutoğlu said that Serbia was the key country in the Balkans and the stability in the region, which a good relationship between Serbia and Turkey contributes to, is extremely important.

"If our relations are good, we will serve as example", said Davutoğlu adding that if Serbia is strong, then the Balkans will be strong, which is why Turkey is so focused on the relations between the two countries. The Turkish Prime Minister also said that the two countries quickly overcame past prejudice and developed a good relationship.

Speaking of economic cooperation, Davutoğlu said that the 800 million USD trade between the two countries should quickly be boosted to a billion, adding that he never misses the chance to urge Turkish investors to invest in Serbia.

The meeting with Davutoğlu ends Gojkovic's two-day visit to Turkey, during which she also met with Turkish President Recep Tayyip Erdoğan and the Speaker of the Turkish Grand National Assembly Cemil Çiçek with whom she signed a Protocol of Cooperation between the two parliaments.

The delegation of the Serbian National Assembly also included the Head of the Parliamentary Friendship Group with Turkey Zoran Babic.

---
---
saturday, 4 july
No announcements for selected date