National Assembly of the Republic of Serbia / Activities / Activity details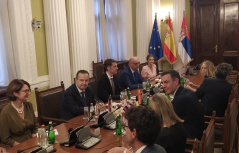 30 July 2022 The Speaker of the National Assembly of the Republic of Serbia Ivica Dacic in meeting with the Prime Minister of the Kingdom of Spain Pedro Sanchez
Saturday, 30 July 2022
National Assembly Speaker Meets with Spanish Prime Minister
The Speaker of the National Assembly of the Republic of Serbia Ivica Dacic met today with the Prime Minister of the Kingdom of Spain Pedro Sanchez, currently in a two-day visit to Serbia.
---
Assembly Speaker Dacic expressed his satisfaction with the historically important visit, considering that Sanchez is the first Prime Minister of the Kingdom of Spain to come in that capacity to our country. Dacic pointed out that the bilateral relations between Serbia and Spain are excellent, friendly, privileged and record a constant rise, with no open issues. He also said that they are characterised by mutual support on issues of vital national interest for both countries and expressed confidence that the visit and talks with our country's highest officials would give a new impetus to cooperation at all levels.
In the course of the meeting, the Serbian Parliament Speaker reiterated that EU membership is the country's strategic commitment and that he expected an acceleration in negotiation dynamics, given that Serbia is implementing important reforms and achieving significant results.
Speaking of parliamentary cooperation, Assembly Speaker Ivica Dacic said that Serbia pays special attention to its further intensification, mentioning his visit to Madrid in October last year and talks with the Speaker of the Congress Meritxell Batet and the Chairman of the Foreign Affairs Committee of the Congress of the Kingdom of Spain P. Mari Klose, which were very important for our parliamentary and overall cooperation.
The Prime Minister of the Kingdom of Spain Pedro Sanchez opined that the relations between the two countries are at a high level, very friendly and open. "I am convinced that both economic and trade relations can reach that level," Sanchez added.
The Spanish Prime Minister said that Spain supports Serbia on the Kosovo-Metohija issue and that it will always stand by it in defence of the principles of international law and territorial integrity and sovereignty, which both countries advocate.
Sanchez also added that Serbia should become a full member of the EU and that Spain would always be with it on the path of European integration.
Assembly Speaker Dacic thanked Spain for its principled position on the Kosovo-Metohija issue, as well as for its continued support of Serbia's European path.
---
Photo gallery
---
---
| M | T | W | T | F | S | S |
| --- | --- | --- | --- | --- | --- | --- |
| 27 | 28 | 29 | 30 | 1 | 2 | 3 |
| 4 | 5 | 6 | 7 | 8 | 9 | 10 |
| 11 | 12 | 13 | 14 | 15 | 16 | 17 |
| 18 | 19 | 20 | 21 | 22 | 23 | 24 |
| 25 | 26 | 27 | 28 | 29 | 30 | 31 |
saturday, 2 december
No announcements for selected date