National Assembly of the Republic of Serbia / Activities / Activity details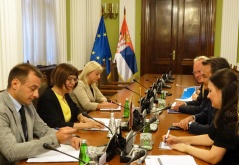 25 August 2015 The National Assembly Speaker in meeting with the rapporteur of the Parliamentary Assembly of the Council of Europe
Tuesday, 25 August 2015
National Assembly Speaker Meets with PACE Rapporteur
National Assembly Speaker Maja Gojkovic, met today with the rapporteur of the Parliamentary Assembly of the Council of Europe Committee on Political Affairs and Democracy Agustin Conde as part of the preparation of the report and resolution of the Council of Europe on the situation in Kosovo-Metohija.
---
Gojkovic said that the Serbian Assembly stands ready to fully contribute to the drafting of an objective report on the situation in Kosovo-Metohija, adding she was sure the report would be objective and responsible.

Gojkovic said that Serbia is committed to the implementation of the Brussels Agreement as a viable option to normalise the life of the citizens in Kosovo-Metohija.

The National Assembly Speaker drew attention to the situation in the judiciary in Kosovo-Metohija reflected in the renewed extension of detainment for Oliver Ivanovic, also adding that Serbian monasteries and churches, part of the Serbian cultural heritage, are often attacked. Gojkovic said that these occurrences do not discourage Serbs from staying in Kosovo-Metohija or returning to the province.

The National Assembly Speaker said Serbia will do all in its power to protect the rights of Serbs in Kosovo-Metohija and insist on the establishment of the Community of Serb municipalities as agreed per the Brussels Agreement.

Conde said that the report will focus on civil rights because the role on the Council of Europe is to ensure, on every territory, no matter what its legal status, that the citizens enjoy their rights and democratic standards, adding that the objective of the periodical checks is to improve the human rights situation.


---
---
monday, 17 january
9.00 - the members of the PFG with Russia meet with Russian senators (National Assembly House, 13 Nikola Pasic Square, hall 2)