National Assembly of the Republic of Serbia / Activities / Activity details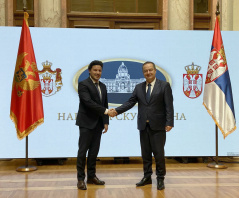 29 June 2022 The National Assembly Speaker and the Montenegrin Prime Minister
Wednesday, 29 June 2022
National Assembly Speaker Meets with Montenegrin Prime Minister
The Speaker of the National Assembly of the Republic of Serbia Ivica Dacic met today with the Prime Minister of Montenegro Dritan Abazovic currently in official visit to the Republic of Serbia.
---
At the beginning of the meeting, National Assembly Speaker Ivica Dacic congratulated Dritan Abazovic on his election as the Prime Minister of Montenegro, with sincere wishes for success in the performance of this highly responsible and demanding function. Dacic pointed out that the fact that Serbia is among the first countries the Montenegrin Prime Minister has visited since taking office testifies to his commitment to improving bilateral relations.
National Assembly Speaker Ivica Dacic said that Serbia attaches special importance to the further development of overall bilateral relations with Montenegro, in the spirit of friendship and mutual respect, as expected from the close ties shared by the two nations.
Dacic expressed hope that bilateral relations could also be improved, among other things, through the parliamentary dimension, where there is ample room to strengthen parliamentary diplomacy and cooperation in international parliamentary organisations, as well as through an exchange of visits of heads of parliament and closer contacts of parliamentary friendship groups.
Prime Minister Abazovic said that he was very satisfied with the visit to Serbia, stressing that he had received a warm welcome from all Serbian officials and is ready and open for cooperation. He went on to say that good relations between Montenegro and Serbia are vital, in addition to the two countries and their citizens, for the stability of the entire region.
In the course of the meeting, the officials discussed the possibilities for cooperation in various fields, expressing readiness to work on raising bilateral relations to the highest possible level.
---
Photo gallery
---
---
tuesday, 21 march
10.00 - sitting of the Committee on Education, Science, Technological Development and the Information Society (National Assembly House, 13 Nikola Pasic Square, hall 3)

11.00 - sitting of the Committee on Finance, State Budget and Control of Public Spending (National Assembly House, 13 Nikola Pasic Square, hall 2)

11.00 - press conference of MP MA Ivan Kostic (National Assembly House, 13 Nikola Pasic Square, Central Hall)

11.00 - the National Assembly Speaker meets with the Chairman of the Bundestag's Foreign Affairs Committee (National Assembly House, 13 Nikola Pasic Square, hall 1)