National Assembly of the Republic of Serbia / Activities / Activity details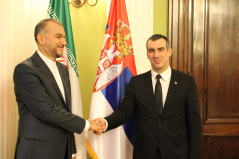 5 December 2022 The National Assembly Speaker with the Minister of Foreign Affairs of the Islamic Republic of Iran
Monday, 5 December 2022
National Assembly Speaker Meets with Iranian Foreign Minister
The Speaker of the National Assembly of the Republic of Serbia Dr Vladimir Orlic met today with the Minister of Foreign Affairs of the Islamic Republic of Iran Hossein Amir-Abdollahian, to discuss the further development of overall cooperation, with a special focus on the economy and modern technologies.
---
Dr Orlic expressed satisfaction with the excellent bilateral relations based on mutual respect and understanding, thanking Iran for respecting the territorial integrity and sovereignty of our country and not recognising so-called "Kosovo", which, he pointed out, confirms Iran's adherence to the basic principles of international law.
Minister Abdollahian praised the close and friendly ties between the two nations, expressing readiness for further cooperation with Serbia in all spheres of mutual interest. He applauded the balanced foreign policy pursued by the President of Serbia, Aleksandar Vucic, as well as the determination with which he fights to preserve the national and state interests. He reiterated that Iran, in accordance with international law and the UN Charter, maintains a consistent position on the issue of non-recognition of the unilaterally declared independence of so-called "Kosovo".
In that regard, the National Assembly Speaker informed the Minister about the current events in Kosovo-Metohija and new violations of the agreements reached. "Serbia stands strongly by its people - President Vucic has repeated this message several times and all of Serbia agrees with his words. Suffering daily terror, open violence, physical, legal and in every other sense, Serbs in Kosovo-Metohija are literally fighting for survival. Every move of Albin Kurti and Pristina reveals a clear final intention - to expel the Serbian people from the territory of Kosovo-Metohija. We will not allow them to do that," said Dr Orlic, adding that, despite the impossible conditions, official Belgrade is fighting to preserve dialogue, stability and peace for everyone in the region.
In the course of the meeting, the officials agreed on the importance of interparliamentary cooperation, which, they noted, would be given additional impetus by the newly formed Parliamentary Friendship Group with Iran, as well as the continuation of parliamentary activities at all levels. The meeting was also attended by the Head of the PFG with Iran Jasmina Karanac who greeted the guests and confirmed her readiness to continue cooperation with the parliamentary friendship group in the Iranian parliament.
---
Photo gallery
---
---
wednesday, 8 february
10.00 - continuation of the First Extraordinary Session of the National Assembly of the Republic of Serbia, 13th Legislature (National Assembly House, 13 Nikola Pasic Square)

11.00 - the Head of the PFG with Saudi Arabia meets with the Ambassador of the Kingdom of Saudi Arabia to Serbia (National Assembly House, 13 Nikola Pasic Square, hall 2)

11.00 - press conference of MP Borko Puskic (National Assembly House, 13 Nikola Pasic Square, Central Hall)

11.00 - sitting of the Committee on Administrative, Budgetary, Mandate and Immunity Issues (National Assembly House, 13 Nikola Pasic Square, hall 3)

13.00 - the members of the PFG with Algeria meet with the Algerian Ambassador to Serbia (National Assembly House, 13 Nikola Pasic Square, hall 3)