National Assembly of the Republic of Serbia / Activities / Activity details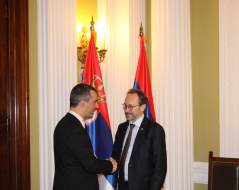 23 January 2023 The National Assembly Speaker with the Head of the EU Delegation to Serbia
Monday, 23 January 2023
National Assembly Speaker Meets with Head of EU Delegation to Serbia
The Speaker of the National Assembly of the Republic of Serbia Dr Vladimir Orlic met today with the Head of the EU Delegation to Serbia Ambassador Emanuele Giaufret, with whom he discussed the continuation of cooperation in 2023, as well as the role of the National Assembly in Serbia's European integration process.
---
The officials also discussed the functioning of democratic institutions, especially the National Assembly, in the context of cooperation with the European Parliament, the legislative reform agenda, as well as the presentation of the EU Annual Report at a plenary session.
The Speaker of the National Assembly of the Republic of Serbia announced a discussion of judiciary legislature at the beginning of February, which will round up the reform in the area begun with last year's Constitutional amendment. "I am convinced that the adoption of these laws will bring with it an official recognition of Serbia's progress," said Dr Orlic.
Ambassador Giaufret said that the European Union sees the Western Balkans as part of its family, within which the Republic of Serbia certainly has a place of its own. "We want Serbia in the European club because it can both contribute and gain a lot. Serbia's membership is in the best interest of both your citizens and the citizens of the European Union," said Giaufret. Dr Orlic thanked for the support of Serbia's European path.
Speaking of the dialogue between Belgrade and Pristina, the Ambassador praised the responsible and constructive approach of Serbia and its President Aleksandar Vucic, pointing out that the full implementation of the agreements reached so far is of key importance, including the formation of the Community of Serb Municipalities.
The National Assembly Speaker stressed that the security of the Serbian people in Kosovo-Metohija, abiding by the signed agreements and the immediate formation of the Community of Serb Municipalities remain key issues for Serbia, which it expects full support for from everyone. "Without the implementation of the aforementioned, the dialogue and any potential subsequent agreements lose their meaning. A serious and responsible attitude towards these and all other issues - that is our state policy, a policy of peace, stability and dialogue. This policy in our country is led by President Aleksandar Vucic, who received the people's mandate for it, as we in the National Assembly of the Republic of Serbia pursue it and as it is pursued by the Government of Serbia. The people's support for this policy and for the man who bears the pressure of all these processes and all difficult issues is clear," concluded Dr Orlic.
---
Photo gallery
---
---
saturday, 4 february
8.30 - sitting of the Committee on Education, Science, Technological Development and the Information Society (National Assembly House, 13 Nikola Pasic Square, hall 3)

9.00 - sitting of the Committee on Labour, Social Issues, Social Inclusion and Poverty Reduction (National Assembly House, 13 Nikola Pasic Square, hall 4)

9.00 - sitting of the Defence and Internal Affairs Committee (National Assembly House, 13 Nikola Pasic Square, hall 2)