National Assembly of the Republic of Serbia / Activities / Activity details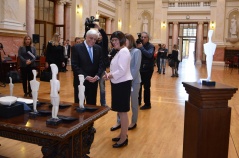 2 October 2017 The National Assembly Speaker and the President of Greece
Monday, 2 October 2017
National Assembly Speaker Meets with Greek President
The Speaker of the National Assembly of the Republic of Serbia Maja Gojkovic met today with the President of the Republic of Greece Prokopios Pavlopoulos and the two highlighted the traditionally good relations between the countries based on the firm friendship and historically proven ties between the two nations.
---
Gojkovic and Pavlopoulos said they were ready to advance the 150-year long friendship between the two countries, underlining the importance of regular political dialogue and exchange of visits at the highest level to that end.
Gojkovic said the Parliament is ready to contribute to the improvement of overall bilateral cooperation, opining that the existing interparliamentary cooperation is very good, with its frequent exchange of high level visits, as well as visits of working bodies and parliamentary friendship groups. The Parliament Speaker said that the Memorandum of Cooperation setting up a Serbia-Greece Parliamentary Cooperation Office signed in April has raised said cooperation to an ever higher level.
Gojkovic thanked Greece for respecting Serbia's territorial integrity and sovereignty, and with it international law which is extremely important in the context of the new challenges rocking Europe. The National Assembly Speaker also thanked Greece for its earnest support of Serbia's path to Europe, to which the country is deeply committed.

The Greek President said that his country supports Serbia's path to Europe and accession process not just because of the traditional friendship but because of the way Serbia is meeting the required standards and could serve as an example to the other countries following the same path. He also agreed that it is paramount to follow international law especially in the context of the new challenges Europe is faced with after yesterday's referendum in the Spanish province of Catalonia.


---
---
Friday, 20 July
11.00 - press conference of the MP Tatjana Macura (National Assembly House, 13 Nikola Pasic Square, Central Hall)