National Assembly of the Republic of Serbia / Activities / Activity details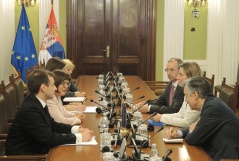 27 March 2015 The National Assembly Speaker Meets with the EU High Representative for Foreign Affairs and Security Policy and European Commission Vice-President
Friday, 27 March 2015
National Assembly Speaker Meets with EU High Representative for Foreign Affairs and Security Policy and European Commission Vice-President
The Speaker of the National Assembly of the Republic of Serbia Maja Gojkovic met today with EU High Representative for Foreign Affairs and Security Policy and European Commission Vice-President Federica Mogherini, currently in visit to Serbia.
---
Gojkovic emphasised Serbia's commitment to the European road, highlighting the National Assembly's significant role in the process.
"We are aware that the road to full European Union membership is neither quick nor easy, but the parliamentarians are committed to it", said Gojkovic, adding that the National Assembly had recently passed a great many reform laws and was continually working on the harmonisation of the national legislation with the EU acquis.
Gojkovic said she was sure that, during her stay in Serbia, the High Representative would gain a true insight into the progress the country has achieved, which the European Parliament had recognised in its resolution.
Mogherini agreed that the role of the National Assembly in the European integration process is very important. The High Representative also said that she was counting on the joint work of Serbia and the EU in the months and years to come in the European integration process, opining that the Serbian leadership is committed to the cause.
Mogherini also said that the EU appreciates Serbia's role in the region stressing that, recently, regional cooperation had taken huge, even historic, steps forward. Mogherini said that Serbia also plays an important role in the international sphere, considering that it chairs the OSCE.

---
---
wednesday, 8 july
13.00 - press conference of MPs Sasa Radulovic, Branka Stamenkovic and Vojin Biljic (National Assembly House, 13 Nikola Pasic Square, Central Hall)

13.45 - press conference of MP Prof. Dr Miladin Sevarlic (National Assembly House, 13 Nikola Pasic Square, Central Hall)

14.20 - press conference of MP Djordje Vukadinovic (National Assembly House, 13 Nikola Pasic Square, Central Hall)