National Assembly of the Republic of Serbia / Activities / Activity details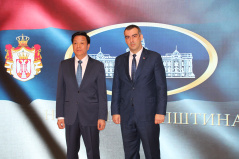 25 September 2023 The National Assembly Speaker and the Chairman of the Shanghai Committee of the Chinese People's Political Consultative Conference
Monday, 25 September 2023
National Assembly Speaker Meets with Chinese People's Political Consultative Conference Delegation
The Speaker of the National Assembly of the Republic of Serbia Dr Vladimir Orlic met today with the Chairman of the Shanghai Committee of the Chinese People's Political Consultative Conference Hu Wenzhong.
---
Dr Orlic said he was very pleased by the visit of Hu Wenzhong and the delegation of the Chinese People's Political Consultative Conference, following closely after the meeting of Serbian President Aleksandar Vucic and Chinese Vice-President Han Zheng in New York, and last week's visit of the First Vice Chairman of the Standing Committee of the National People's Congress of the People's Republic of China Li Hongzhong to the National Assembly.
Speaker Orlic affirmed that the relations between Serbia and China are characterised by steel friendship, established primarily thanks to presidents Aleksandar Vucic and Xi Jinping. He was especially pleased by the fact that the delegation also included representatives of the Shanghai General Chamber of Commerce and leading Shanghai companies, expressing readiness to continue the successful cooperation between the National Assembly of the Republic of Serbia and the Chinese People's Political Consultative Conference in future.
Dr Orlic informed the guest about the extremely difficult situation in Kosovo-Metohija. "The sole culprit for this horrible situation is Albin Kurti. Everything this man does is an attempt to lead to an open escalation and ethnic cleansing of Serbs from Kosovo-Metohija. In his response, the President of the Republic Aleksandar Vucic restates our clear position that Serbia would never recognise so-called "Kosovo". Kurti's armed gangs have to definitely quit the area populated by Serbs, stop mistreating the Serbian people and provoking an open conflict", said Dr Orlic. He stressed that most UN member states today stand by the same positions with Serbia and respect the UN Charter. "I would like to thank the People's Republic of China which has always been the firmest and clearest in its respect for our sovereignty and territorial integrity", said the National Assembly Speaker, also stressing that Serbia clearly supports the "One China" policy.
Hu Wenzhong said that one of the objectives of his visit is to exchange experiences with friendly Serbia concerning the organisation of EXPO 2027, since Shanghai hosted the specialised international exposition in 2010, which had, he stressed, resulted in numerous benefits for China. He said he was certain that having EXPO 2027 in Belgrade would lend all of Serbia new strength and momentum for economic development. Hu Wenzhong praised the two countries cooperation in the realisation of the most important infrastructural projects in Serbia, stressing that the Shanghai Committee stands ready to contribute to the further development of cooperation, especially in the fields of the economy and investment.
---
Photo gallery
---
---
| M | T | W | T | F | S | S |
| --- | --- | --- | --- | --- | --- | --- |
| 27 | 28 | 29 | 30 | 1 | 2 | 3 |
| 4 | 5 | 6 | 7 | 8 | 9 | 10 |
| 11 | 12 | 13 | 14 | 15 | 16 | 17 |
| 18 | 19 | 20 | 21 | 22 | 23 | 24 |
| 25 | 26 | 27 | 28 | 29 | 30 | 31 |
saturday, 2 december
No announcements for selected date