National Assembly of the Republic of Serbia / Activities / Activity details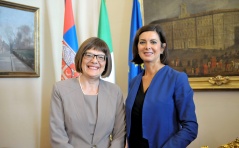 17 September 2015 The National Assembly Speaker and the President of the Italian Chamber of Deputies
Thursday, 17 September 2015
National Assembly Speaker Maja Gojkovic in Working Visit to Italy – on European Integration and Migrant Crisis
The Speaker of the National Assembly of the Republic of Serbia Maja Gojkovic is in a one-day working visit to Italy at the invitation of the President of the Italian Chamber of Deputies Laura Boldrini.
---
Besides her meeting with Boldrini, the National Assembly Speaker also met with Pietro Grasso, President of the Italian Senate. The key topics of the meetings were European integration, migrant crisis, development of economic cooperation and intensification of parliamentary relations.

Gojkovic thanked Italy for its continuous and strong support of Serbia's Euro-integration process and for the Resolution passed by the Italian Senate regarding the opening of the first negotiation chapters with Serbia.

Gojkovic said she expected the first negotiation chapters to be opened soon and she believes the Italian partners will support their opening this year.

Gojkovic and Boldrini also discussed the migrant problem troubling the European countries and the need to come up with a unified European policy on the migrant crisis, especially in view of the fact that human rights are a fundamental European value.

Boldrini commended Serbia's management of the migrant crisis adding that the way it deals with the crisis demonstrates the strength of the democratic institutions.

Gojkovic pointed out that Serbia is acting in accordance with international law and humanitarian standards to alleviate the situation and contribute to a solution to the problem which, she said, should be faced together.

Gojkovic said that Serbia wants a unified European policy on the issue and is ready to shoulder its part of the burden leading to the resolution of the crisis.

The officials also discussed the economic reforms in Serbia and the Italian partners stressed they are following the reform processes closely which increase the options for additional investments and trade.

The National Assembly Speaker's visit to Italy is the Serbian Parliament Speaker's first visit to the country.


---
---
monday, 17 january
9.00 - the members of the PFG with Russia meet with Russian senators (National Assembly House, 13 Nikola Pasic Square, hall 2)