National Assembly of the Republic of Serbia / Activities / Activity details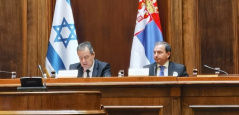 30 November 2021 National Assembly Speaker Ivica Dacic
Tuesday, 30 November 2021
National Assembly Speaker Ivica Dacic at Hanukkah Celebration
The Speaker of the National Assembly of the Republic of Serbia Ivica Dacic spoke at the Hanukkah celebration in the National Assembly House.
---
THE FOLLOWING IS THE SPEECH OF THE SPEAKER OF THE NATIONAL ASSEMBLY OF THE REPUBLIC OF SERBIA IN ITS ENTIRETY:

Dear Mr Levy,
Mr Toporovsky,
Your Excellency,
Dear friends,

I am so very glad that the parliaments of Serbia and Israel have come together today and have the opportunity, as friends, to celebrate the great Jewish holiday of Hanukkah. At the very beginning, I would like to most cordially wish a happy holiday to all the Jews and the State of Israel, with the hope they celebrate it surrounded by peace and family love, devoted to one another, as the long tradition dictates.

Serbia and the Serbian people and Israel and the Jewish people are friends as they have been throughout their common history. We have shared a common history both when we were victims and when we were winners. Serbia is proudly to inherit the memory such great leaders of the Jewish people as Yehuda Alkalai and Theodor Herzl whom we consider part of our own history because their lives are also connected to this area. We respectfully gave the names of both greats to streets in our Zemun so as to symbolically preserve the connection between our two great nations.

Serbia is the last country in the world to which one can attribute anti-Semitism. That is a foreign notion to the Serbian people, which is why I want to take this opportunity to strongly condemn the breaking of the windows on the building at the Jewish cemetery in Belgrade and to say that it is an isolated incident perpetrated by someone who is against both Serbs and Jews.

Serbia and Israel are not only great friends but also great partners in political relations, the economy, trade, technological development, fight against terrorism, in sports, in all areas. Serbia has received more than two billion US dollars in investments from Israel, which is both a sign of a good business decision making by Israeli companies, to increase their business dealings in our country, and a sign that Serbia is the right place to invest. Belgrade and other cities in Serbia have changed their appearance in recent years, primarily thanks to Israeli investments in construction and real estate. We all want this great trend to continue and to welcome many other Israeli companies, because they not only have good friends in Serbia, but the best business conditions they can find in this part of Europe as well. We want Israel to be even more present in the fields of energy, high technologies, tourism and agriculture.

Of course, our political relations are also the focus of constant attention and we should work on their further development. Unfortunately, the State of Israel has recognised the unilaterally declared independence of Kosovo this year, a decision that has affected us deeply, because it came from a state that is our friend and that had resisted the pressure to make such a decision for years.

But despite that, we must continue with our cooperation and we must find a compromise solution to this, for us the most important state issue, one to ensure peace, stability and common life and cooperation in the long run. We know that we have an honest and important partner in Israel to achieve the goal that Serbia is striving for.

Dear friends, allow me to once again, on this great holiday of Hanukkah, convey the Serbian people's friendly and brotherly feelings toward the Jewish people and express my conviction that our glorious, common history will continue to duty bind us to turn to each other today and tomorrow, and together build a good future.

Thank you and happy holiday! "


---
Photo gallery
---
---
friday, 28 january
13.00 - meeting of the Inter-Party Dialogue Control Body (National Assembly House, 13 Nikola Pasic Square, hall 1)

17.00 - National Assembly Speaker Ivica Dacic meets with Inter-Party Dialogue co-facilitators (National Assembly House, 13 Nikola Pasic Square, hall 1)