National Assembly of the Republic of Serbia / Activities / Activity details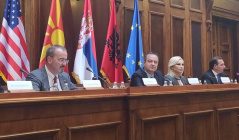 24 November 2021 National Assembly Speaker Ivica Dacic at the conference "The Open Balkans – A Path toward Stabilisation, Cooperation and Prosperity of the Region"
Wednesday, 24 November 2021
National Assembly Speaker Ivica Dacic at Conference on Open Balkans Initiative
The Speaker of the National Assembly of the Republic of Serbia Ivica Dacic spoke at the conference "The Open Balkans – A Path toward Stabilisation, Cooperation and Prosperity of the Region".
---
THE FOLLOWING IS THE SPEECH OF THE SPEAKER OF THE NATIONAL ASSEMBLY OF THE REPUBLIC OF SERBIA IN ITS ENTIRETY:
Dear Prime Minister,
Honourable Prime Ministers of Albania and North Macedonia,
Mr. Escobar, Mr. Lajcak,
Ladies and Gentlemen,
Allow me to greet you at the beginning of this conference and thank the organisers, especially Mr. Marinkovic and Kovacic, for making the effort to bring us together to discuss a topic that is without a doubt the most important regional topic in many years.
A mere two years have passed since the launch of the "Open Balkans" initiative, when President Vucic and prime ministers Rama and Zaev signed the initial declaration in Novi Sad and presented the intentions of our three countries to build stronger connections in our region. In a short time, this initiative has shown itself to be a complete success, that it is the best and right answer to the authentic needs of our citizens and our countries.
We have come a long way from the Novi Sad declaration to date. In the early days, there were many more people who challenged this regional initiative than those of us who stood behind it. There was talk in the region, as well as in Europe, laced with pessimism and resentment, saying that the "Open Balkans" is a consolation prize for EU membership, that it is the creation of a new Yugoslavia, that the existing regional projects are enough and we do not need another one.
I am glad everyone was wrong. This is no Yugoslavia, this is no consolation prize, only a huge job we have done so far and a project that will change the face of the Balkans. This is the first time in 30 years that an initiative to better connect our economies and our people has a chance to succeed. None before the "Open Balkans" was able to do that, because it was not an expression of our authentic will and a solution to our real problems. "Open Balkans" is our invention from beginning to end, it is a means to connect our societies and our economies by opening borders for people, goods and capital and services. For too long, there have been various barriers between us which only hindered our development and made us all waste a lot of money and time, and our economies suffered for no reason.
I am glad that high representatives of the European Union and the United States are with us here today, it is a great incentive to continue working on the realisation of the "Open Balkans" project, as well as a confirmation that it is well designed from the get go and worth investing trust at least.
The recent meeting between President Vucic and prime ministers Zaev and Rama in Skopje marked the beginning of concrete activities to have the "Open Balkans" to come to life in practice. The goal is for the measures to remove the economic barriers between our three countries and open the doors for the implementation of the four freedoms of the European Single Market, to come into force at the beginning of 2023. Preparations are already underway within our institutions to adjust regulations and harmonise practices, and I am sure that in a little over a year we will have the image we have been creating all this time through the "Open Balkans" project in place.
That image has not existed in the Balkans so far. Instead of disintegration, which we are unfortunately known for around the world, the Balkans will be a space of great and essential integration in the unhindered flow of trade, investment and labour force. This is a historic opportunity and I am sure we will take full advantage of it.
To of all those still reluctant to join in, I want to say that the door is wide open and there is no reason not to enter the "Open Balkans". If they still think that by joining they will suffer some damage or risk, then they will have to explain to their citizens why their market is closed, why their goods are more expensive and waits at the border for days and why they cannot find a job in their immediate environment.
As for Serbia, Albania and North Macedonia, we had no such dilemmas from the very beginning and we are hard at work to make the "Open Balkans" presently show its true value.
Thank you once again for supporting the work on this most important project for the future of our region by participating in this conference, and I am convinced that this will give impetus to its realisation as soon as possible and in full.
Thank you!
---
Photo gallery
---
---
tuesday, 7 december
9.00 - sitting of the Committee on Finance, State Budget and Control of Public Spending (National Assembly House, 13 Nikola Pasic Square, hall 3)

9.00 - sitting of the Committee on the Judiciary, Public Administration and Local Self-Government (National Assembly House, 13 Nikola Pasic Square, hall 2)

9.00 - 52nd meeting of the National Assembly Collegium (National Assembly House, 13 Nikola Pasic Square, hall 1)

10.00 - 11th Sitting of the Second Regular Session of the National Assembly of the Republic of Serbia in 2021 (National Assembly House, 13 Nikola Pasic Square)

11.00 - National Assembly Deputy Speaker Stefan Krkobabic meets with a delegation led by the Head of the Georgian Royal House H.R.H. Prince Davit Bagration Muhranbatoni (National Assembly House, 13 Nikola Pasic Square, library)

11.00 - the Head of the National Assembly's standing delegation to NATO PA meets with the Ukrainian Ambassador to Serbia (National Assembly House, 13 Nikola Pasic Square, hall 2)

11.45 - press conference of National Assembly Deputy Speaker Stefan Krkobabic and H.R.H. Prince Davit Bagration Muhranbatoni (National Assembly House, 13 Nikola Pasic Square, Central Hall)

12.30 - sitting of the Foreign Affairs Committee (National Assembly House, 13 Nikola Pasic Square, hall 2)

13.00 - sitting of the Culture and Information Committee (National Assembly House, 13 Nikola Pasic Square, hall 3)

15.00 - National Assembly Speaker Ivica Dacic meets the Ambassador of the Kingdom of Bahrain (National Assembly House, 13 Nikola Pasic Square, diplomatic salon of Prince Pavle Karadjordjevic)