National Assembly of the Republic of Serbia / Activities / Activity details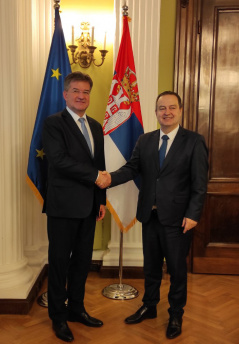 30 June 2022 The National Assembly Speaker and the EU Special Representative for the Belgrade-Pristina Dialogue and other Western Balkan regional issues
Thursday, 30 June 2022
National Assembly Speaker Ivica Dacic Meets with Miroslav Lajcak
The Speaker of the National Assembly of the Republic of Serbia Ivica Dacic met today with the EU Special Representative for the Belgrade-Pristina Dialogue and other Western Balkan regional issues Miroslav Lajcak.
---
In the course of the meeting, National Assembly Speaker Ivica Dacic underlined that the only correct way to find a sustainable agreement between Belgrade and Pristina is dialogue and compromise, stressing that Belgrade remains fully devoted to dialogue and ready for its continuation.
"Our side is ready to tackle the many open issues in the continuation of the dialogue, but we must stress that we are not ready to accept any one-sided decisions not resulting from an agreement made in the dialogue which directly threaten the rights of the members of the Serb community in Kosovo-Metohija", said Dacic.
Miroslav Lajcak stressed that "dialogue is the only process for the normalization of relations between Serbia and Kosovo", adding that the EU's position is that it is up to the two sides to implement any agreements made. Lajcak also said that he was working on a high-level meeting between President Aleksandar Vucic and Prime Minister Albin Kurti in Brussels and that he wishes their next meeting is a productive one.
---
Photo gallery
---
---
tuesday, 28 march
14.00 - sitting of the Committee on Human and Minority Rights and Gender Equality (National Assembly House, 13 Nikola Pasic Square, hall 2)

14.25 - ceremonial welcome of the President of the Republic of Greece (National Assembly House, 13 Nikola Pasic Square, Central Hall)

14.30 - the National Assembly Speaker meets with the President of the Republic of Greece (National Assembly House, 13 Nikola Pasic Square, hall 1)

16.00 - the National Assembly Speaker meets with the Kazakh Ambassador to Serbia (National Assembly House, 13 Nikola Pasic Square, hall 1)