National Assembly of the Republic of Serbia / Activities / Activity details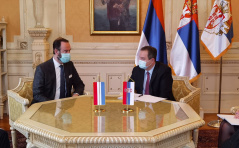 1 February 2021 National Assembly Speaker Ivica Dacic and the Ambassador of the Kingdom of the Netherlands to Serbia Gilles Beschoor Plug
Monday, 1 February 2021
National Assembly Speaker Ivica Dacic Meets with Dutch Ambassador to Serbia
The Speaker of the National Assembly of the Republic of Serbia Ivica Dacic received today in farewell visit Ambassador of the Kingdom of the Netherlands to Serbia Gilles Beschoor Plug whose mandate is soon coming to an end.
---
National Assembly Speaker Ivica Dacic said that in his new position he would endeavour to contribute to the improvement of parliamentary cooperation between the Netherlands and Serbia which was not focus of much attention in the previous period. He reminded the guest that there has been no visit of heads of parliament in almost forty years and expressed readiness to organize an exchange of parliamentary visits after the elections in the Netherlands, both at the level of parliamentary committees and friendship groups, and at the level of Speakers.
The National Assembly Speaker went on to inform the Ambassador about the activities of the National Assembly and future plans, while Ambassador Plug praised the changes in the work of the National Assembly, emphasizing the importance of the adoption of the Code of Conduct for MPs, the National Assembly session dedicated to the European Commission's Progress Report on Serbia and the consideration of the reports of independent institutions in the National Assembly. He stressed the importance of continuing the reform process in Serbia.
The officials also discussed the continuation of the inter-party dialogue.
National Assembly Speaker Ivica Dacic wished Ambassador Plug success in his further career.
---
Photo gallery
---
---
friday, 23 april
13.00 - video meeting of the Chairman of the National Assembly Foreign Affairs Committee and the Chairman of the Italian Chamber of Deputies Foreign Affairs Committee (National Assembly House, 13 Nikola Pasic Square, hall 2)