National Assembly of the Republic of Serbia / Activities / Activity details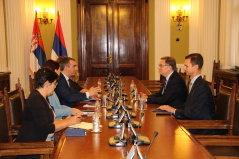 21 September 2023 The National Assembly Speaker in meeting with the newly-appointed Finnish Ambassador to Serbia
Thursday, 21 September 2023
National Assembly Speaker Dr Vladimir Orlic Meets with Newly-Appointed Finnish Ambassador to Serbia
The Speaker of the National Assembly of the Republic of Serbia Dr Vladimir Orlic met today with the newly-appointed Ambassador of the Republic of Finland to the Republic of Serbia, H.E. Niklas Lindqvist, welcoming him and wishing him a successful mandate.
---
The two officials discussed the possibilities for improving cooperation, especially in terms of increasing the volume of foreign trade exchange and investments of Finnish companies.
Dr Orlic pointed out that the peace and stability of the entire region, as a prerequisite for any development, are the basic elements of the policy pursued by Serbia.
"The situation in Kosovo-Metohija is extremely difficult. Every day we have new examples of violence carried out against Serbs by Kurti - from open physical attacks on Serbs and their arrest without any legal basis, to kidnapping people and seizing property, while violating all agreements and destroying dialogue. And the statement of Josep Borrell says that Kurti's activities are in direct opposition to the rule of law and that this blatant violence must stop. That is why it is important not to establish an artificial balance, by calling on "both sides to reduce tensions", when it is known that there is only one generator of problems and violence in Kosovo-Metohija", said Dr Orlic.
National Assembly Speaker Dr Orlic pointed out that Serbia has a clear and proven position of respecting the principles of international public law and the UN Charter.
"Serbian President Aleksandar Vucic is talking about this with world leaders in New York and today he is also addressing the UN General Assembly. He will talk about the principles of international law that everyone swears by today, and they violated those principles in a most serious way in the case of our country. The whole world will hear the President of Serbia and the whole of Serbia will be following closely. Our people are proud of their President and of our free and sovereign state policy," stressed Dr Orlic.
Ambassador Lindqvist thanked the National Assembly Speaker for all the information about the current situation in Kosovo-Metohija, stressing that the stability of the Western Balkans is very important for his country and that Finland fully supports the statement of the EU High Representative for Foreign Affairs and Security Policy Josep Borrell sent to the parties, which reflects the position of all EU member states. He added that Finland fully supports Serbia's European integration process and emphasised the importance of cooperation in the fields of sustainable economy and green energy, culture, education, as well as in other areas of mutual importance.
The officials agreed that in the coming period, joint efforts should be made to improve cooperation between Serbia and Finland, and Dr Orlic emphasised the National Assembly's readiness to contribute to the further development of cooperation in various areas of mutual importance.
---
Photo gallery
---
---
saturday, 9 december
No announcements for selected date