National Assembly of the Republic of Serbia / Activities / Activity details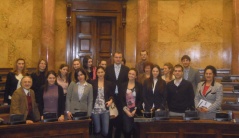 21 December 2012 National Assembly interns receive diplomas
Friday, 21 December 2012
National Assembly Interns Receive Diplomas
The interns who had completed the National Assembly's student practice programme were presented with diplomas today.
---
Addressing the students, National Assembly Deputy Secretary General Mladen Mladenovic shared his firm belief that they had gained practical experience during their internship which would prove useful for their future work and career development. Strengthening the National Assembly's control function, intensifying cooperation with the civil sector, interparliamentary cooperation, introduction of e-Parliament are just some of the projects the interns and National Assembly worked together on, said Mladenovic.
The representative of the National Democratic Institute, the organisation which supports the internship programme, Zorica Vojinovic, stressed that the programme was a strong indicator of the National Assembly's outreach to the citizens. The knowledge and practical skills the students had gained during their internship at the National Assembly are a valuable experience for their further professional development, concluded Vojinovic.
After the address, the National Assembly Deputy Secretary General presented the interns with diplomas attesting to their completion of the student practice programme.
The National Assembly's internship programme was launched in 2003 and has been attended by more than 150 students to date. This generation of interns' practice programme lasted from February to November 2012. Out of the 145 students who had applied, following tests and interviews, 18 were selected to attend the student practice programme. In the course of the nine months spent with the National Assembly's departments, committees and parliamentary groups, they had the opportunity to gain knowledge and experience of the responsibilities and function of the National Assembly Service.

---
---
tuesday, 29 september
No announcements for selected date