National Assembly of the Republic of Serbia / Activities / Activity details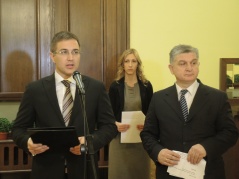 16 December 2013 Commemorative Gathering for Roma Holocaust Victims
Monday, 16 December 2013
National Assembly Hosts Commemorative Gathering for Roma Holocaust Victims
Today, the National Assembly House hosted a commemorative gathering for the victims of the Roma Holocaust. The Roma Holocaust Remembrance Day was established to commemorate 16 December 1942 when the Roma from European countries under Nazi and fascist occupation were deported to the "family camp". 26,000 Roma were deported into the camp.
---
The gathering was opened by MP Srdjan Sajn and was also addressed by National Assembly Speaker Dr Nebojsa Stefanovic.
The commemorative gathering was attended by MPs, members of the diplomatic corps, representatives of the Office for Human and Minority Rights, Office for Cooperation with Churches and Religious Communities, Association of Jewish Municipalities of Serbia, Ministry of Labour, Employment and Social Policy and others.
Click
here
to watch the commemorative gathering.
---
---
| M | T | W | T | F | S | S |
| --- | --- | --- | --- | --- | --- | --- |
| 28 | 29 | 30 | 1 | 2 | 3 | 4 |
| 5 | 6 | 7 | 8 | 9 | 10 | 11 |
| 12 | 13 | 14 | 15 | 16 | 17 | 18 |
| 19 | 20 | 21 | 22 | 23 | 24 | 25 |
| 26 | 27 | 28 | 29 | 30 | 31 | 1 |
thursday, 1 october
No announcements for selected date