National Assembly of the Republic of Serbia / Activities / Activity details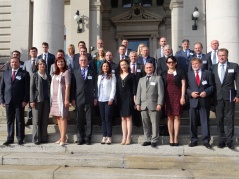 29 June 2015 Participants of the Annual Meeting of the Representatives from Defence and Security Committees from South East European Parliaments – Flood Relief
Tuesday, 30 June 2015
National Assembly Hosts Annual Meeting of Representatives from Defence and Security Committees from South East European Parliaments – Flood Relief
The three-day Annual Meeting of the Representatives from Defence and Security Committees from South East European Parliaments – Flood Relief, co-organised by the National Assembly and the Centre for Security Cooperation (RACVIAC), with the Geneva Democratic Control of Armed Forces (DCAF), was opened at the National Assembly yesterday.
---
Opening the Annual Meeting, Defence and Internal Affairs Committee Chairperson Marija Obradovic said that the parliamentarians gathered here to give new impulse to the cooperation on a matter uniting us in a new and real regional security challenge.

Last year's meeting confirmed that regular meetings of parliamentarians are a useful and important forum for "hashing out" current security challenges, risks and threats, as is the fact that the meeting itself took place just after the catastrophic May floods which devastated the region of South East Europe. That is when it was decided to dedicate the next meeting to flood relief, said Obradovic.

"A year after the devastating floods we gather here to assess the situation a year later and send a clear political message that investing into a flood defence system is crucial for each of the states and the entire region, too. The floods, as a result of climate change, are becoming a more strident global security problem that compels regional cooperation in the response to natural disasters. What we as MPs can do and have to do when supervising the executive, is to insist on making investments into water management and flood relief the some of the highest priorities of the state, especially when the state budget is being passed", concluded the Chairperson of the Defence and Internal Affairs Committee.

She also wished that the regional initiative become a standing forum for the meetings of representatives from defence and security committees, aimed at promoting best ideas and best practice examples for the benefit of the entire region and its people.

The participants of the Annual Meeting were also addressed by Brigadier General Zdravko Jakop on the behalf of the Centre for Security Cooperation (RACVIAC,) and Teodora Fuior, Operations Southeast Europe Project Coordinator at the Geneva Democratic Control of Armed Forces (DCAF), who highlighted the regional cooperation between the SEE states on flood relief.

Ivan Baras, Assistant Head of the Emergency Management Sector at the Ministry of Interior, spoke of Serbia's activities on containing the damages caused by last year's floods, cooperation with the countries in the region and preventive measures.

In the course of the Annual Meeting in Belgrade, 29 June - 1 July, the SEE parliamentarians will discuss emergency system responses in case of floods and sum up the situation in the region a year after the devastating floods, as well as deliberate on regional cooperation concerning responses to possible future natural disasters, with a special focus on flood prevention.


---
---
| M | T | W | T | F | S | S |
| --- | --- | --- | --- | --- | --- | --- |
| 27 | 28 | 29 | 30 | 31 | 1 | 2 |
| 3 | 4 | 5 | 6 | 7 | 8 | 9 |
| 10 | 11 | 12 | 13 | 14 | 15 | 16 |
| 17 | 18 | 19 | 20 | 21 | 22 | 23 |
| 24 | 25 | 26 | 27 | 28 | 29 | 30 |
| 31 | 1 | 2 | 3 | 4 | 5 | 6 |
friday, 7 august
No announcements for selected date