National Assembly of the Republic of Serbia / Activities / Activity details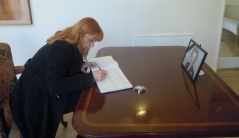 11 April 2013 National Assembly Deputy Speaker Vesna Kovac
Thursday, 11 April 2013
National Assembly Deputy Speaker Vesna Kovac Signs Book of Condolences on Death of Margaret Thatcher
Today, National Assembly Deputy Speaker Vesna Kovac signed the Book of Condolences opened at the UK Embassy to commemorate the death of Margaret Thatcher.
---
"I would like to extend my deepest condolences, on the behalf of the National Assembly of the Republic of Serbia and myself, on the death of Baroness Margaret Thatcher, Prime Minister of the United Kingdom of Great Britain and Northern Ireland 1979 - 1990.
Baroness Thatcher has left a deep impression on the global political scene of the late 20th century and will be remembered as a principled stateswoman of considerable international reputation and integrity.
Her contemporaries and the generations to come in the UK and the whole world will remember her with due respect", wrote Deputy Speaker Kovac into the Book of Condolences.
---
---
tuesday, 29 september
No announcements for selected date