National Assembly of the Republic of Serbia / Activities / Activity details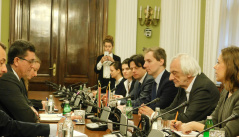 20 March 2019 National Assembly Deputy Speaker Veroljub Arsic in meeting with the Polish parliamentary delegation
Wednesday, 20 March 2019
National Assembly Deputy Speaker Veroljub Arsic Meets with Polish Parliamentary Delegation
National Assembly Deputy Speaker Veroljub Arsic met today at the National Assembly with a delegation of the Group for Cooperation with the Western Balkans of the Parliamentary of the Republic of Poland, headed by Ryszard Terlecky, to discuss improving interparliamentary cooperation and Serbia's European integration.
---
Deputy Speaker Arsic said that this year's centenary of diplomatic relations could be a good starting point for the further improvement of cooperation between Serbia and Poland overall.
Speaking of the possible ways to improve parliamentary cooperation, Arsic said that there is ample room to boost cooperation between parliamentary friendship groups and working bodies, as well as between the two countries' delegations to international parliamentary institutions and forums.
Ryszard Terlecky agreed with the National Assembly Deputy Speaker that the relations between the two states should be furthered and improved since both Serbia and Poland are vital factors of European security and economy. Terlecky said it would be good to improve cooperation between the parliamentary committees in charge of the economy, agriculture and European affairs.
The officials agreed that it would also be good to raise the cooperation between the Polish Sejm and the National Assembly to the level of commission for cooperation to ensure coordinated action and exchange of opinions on topics of mutual importance.
Terlecky went on to say that Serbia and Poland could also establish closer ties within the Central- Eastern Europe region, mentioning the Three Seas Initiative.
The officials also discussed Serbia's European integration process. Deputy Speaker Arsic said that Serbia is working on conducting reforms and harmonizing the national legislation with the EU acquis and thanked Poland for its unwavering support and the position that the membership criteria set for Serbia should not be amended.
He stressed that the situation in the southern province of Kosovo-Metohija is the biggest challenge Serbia has to tackle. Since 2012 Serbia has actively searched for a sustainable solution to the problem of Kosovo-Metohija, said Arsic adding that the country had fulfilled all of the obligations of the Brussels Agreement, while the provisional institutions of Kosovo have not fulfilled their one obligation – establishment of the Community of Serbian Municipalities which would guarantee the stay and life of Serbs in Kosovo-Metohija.
Arsic added that Pristina is harming the talks by asking to join international institutions such as INTERPOL, IMF and UNESCO, as well as imposing the 100% customs tax on goods from Serbia. Instability in the region harms economic growth and the social position of the people living in Kosovo-Metohija, stressed Arsic adding that any support for the continuation of the talks is support for peace in the region.
Terlecky said that Serbia is one of the top membership candidates with the biggest chance of being admitted into the EU, stressing that Poland is pushing to expedite the process and rationalize the conditions for Serbia's EU accession.


---
---