National Assembly of the Republic of Serbia / Activities / Activity details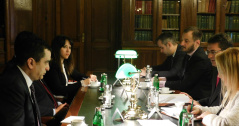 14 February 2019 National Assembly Deputy Speaker Veroljub Arsic in meeting with Egyptian Ambassador to Serbia Amr Fathi Mohamed Aljowaily
Thursday, 14 February 2019
National Assembly Deputy Speaker Veroljub Arsic Meets with Egyptian Ambassador to Serbia
National Assembly Deputy Speaker Veroljub Arsic met today, at the National Assembly House, with Amr Fathi Mohamed Aljowaily, Ambassador of the Arab Republic of Egypt, to discuss the bilateral relations between the two countries and promoting interparliamentary cooperation.
---
Deputy Speaker Arsic and Ambassador Aljowaily agreed that Serbia and Egypt are traditionally friendly countries that share a close relationship characterized by intensive cooperation. They opined that the National Assembly Speaker's upcoming visit to the Egyptian Parliament, in the course of which the two institutions are to sign a Memorandum of Cooperation, would contribute to the advancement of interparliamentary relations.
Serbia and Egypt's reciprocal support in international parliamentary institutions is also very important, said Arsic and Aljowaily, mentioning their excellent cooperation in the Parliamentary Assembly of the Mediterranean whose 13th plenary is to be hosted by the National Assembly, on 21-22 February.
Deputy Speaker Arsic also said that Egypt's friendship is evident in its constructive approach to the problem with the southern Serbian province of Kosovo-Metohija. "Your vote on so-called Kosovo's INTERPOL and UNESCO supported the continuation of the dialogue between Belgrade and Pristina because that is the only way toward finding a sustainable solution", Arsic concluded.
The officials also discussed tourism and attracting Egyptian tourists to Serbia, especially to the mountains and the Danube cruises.


---
---
friday, 10 july
13.00 - press conference of MPs Sasa Radulovic, Branka Stamenkovic and Vojin Biljic (National Assembly House, 13 Nikola Pasic Square, Central Hall)